Hands-on with AT&T's Windows Phone 7 smartphones
8

We have wrapped up the
hands-on with Europe's first Windows Phone 7 handsets
- HTC 7 Mozart, LG Optimus 7 and Samsung Omnia 7.
Also check out our hands-on with the European
HTC HD7
.
And just like that, with much anticipation surrounding it as if their hard efforts hinge on this sole event, Microsoft was able to officially unveil Windows Phone 7 to the world – and what a spectacular showing! Microsoft has been on the ropes for some time, especially in the last year, with their market share seemingly dwindling as the competition managed to take its toll on the venerable company. After finally unveiling their next generation mobile platform way back during MWC, they are now ready to take hold of their own destiny as we witnessed today a handful of Windows Phone 7 devices make their debut – which are running the platform in full form.
These three handsets will undoubtedly be the first wave to provide consumers a tasting of what to expect with the next-gen platform. At the same time, they will potentially become the driving factor in getting the new operating system rolling and into the hands of people who are naturally wanting to experience something so different from what's out there. Steve Ballmer was at full form as he presented himself with plenty of energy during his speech, which is quite fitting, but his attitude toward the new platform will energize it to become the household name they hope it to be.
So without further wait, we present to you three smartphones bound for AT&T which will be making its presence known very shortly – the Samsung Focus, LG Quantum, and HTC Surround.
Samsung Focus
There wouldn't be a showing without Samsung of course – especially when they're reaping all of the benefits right now with their international hit; the Samsung Galaxy S. So the party won't be the same unless Samsung is somehow included, which they are as usual, with their offering in the Samsung Focus. Similarly to their line of Samsung Galaxy S handsets, the Focus follow strongly with its eye catching 4" WVGA Super AMOLED display which is resounding from the rest solely for that single reason. Not only does it radiate head above the other two devices on hand, but it's also larger which will make it a seamless transition for those who are already comfortable holding onto any of the Galaxy S devices out there. Design wise, there really isn't too much to say about it, even more when it doesn't necessarily scream anything innovative, but it nonetheless feels pretty decent overall. Comfortable and easy to hold in the hand, the plastic casing is more than durable feeling in dealing with most circumstances. Other features include a 5-megapixel camera, 8GB of internal storage, and tallies it at an impressive 0.35" thick – which is only expected with a device packing a Super AMOLED panel.
Needless to say that the main attraction is none other than Windows Phone 7 running so elegantly without much fault during our short time with it. We adore the strikingly different user interface which is littered with plenty of eye candy thanks to its continuous usage of transition effects. Apps managed to load in a timely manner and we were pleasantly surprised to find everything just working without any noticeable stutter or lag. Pricing is set to $199.99 with a contract when it begins to come around starting on November 8th.
Samsung Focus Specifications

LG Quantum
Being a handset that's been heavily seen throughout its journey from its inception to actually being announced today, the LG Quantam is unique in its own regard thanks to its inclusion of a physical landscape sliding QWERTY. From the design aspect, it reminds us of any other smartphone we've seen the Korean based manufacturer. The gun metal-ish finish of the smartphone undoubtedly provides that quick assertion that it's a durable handset, but after quickly holding it, the plastic nature of the handset becomes quite evident. It's not to say a bad thing, thankfully, but some would probably prefer something a bit more durable feeling. However, it does look and feel much like other previous handset. Opening up the handset to expose the QWERTY, we are happy to see that keys are more than adequate in size to provide anyone that sense of usability. In fact, the look and feel of its QWERTY is reminiscent of something like the recent LG Vu Plus or LG Xenon – which isn't a bad thing since they offer a good tactile response. Some of the other features include a 3.8" WVGA touchscreen, 1GHz Snapdragon processor, 16GB of internal storage, a 5-megapixel camera, and 720p video recording.
Again, the true star of the handset is none other than Windows Phone 7 running in the flesh – which is exciting to say the least. Everything seems to come to life, not on just the surface, but everywhere you can imagine throughout the platform. Transition effects are in full effect and we adore the smooth feel of pinch to zoom and scrolling when using the web browser. Overall, the true star in this case is none other than the well built mobile platform that's already starting to show its prowess amidst the onslaught of competition out there.
LG Quantum Specifications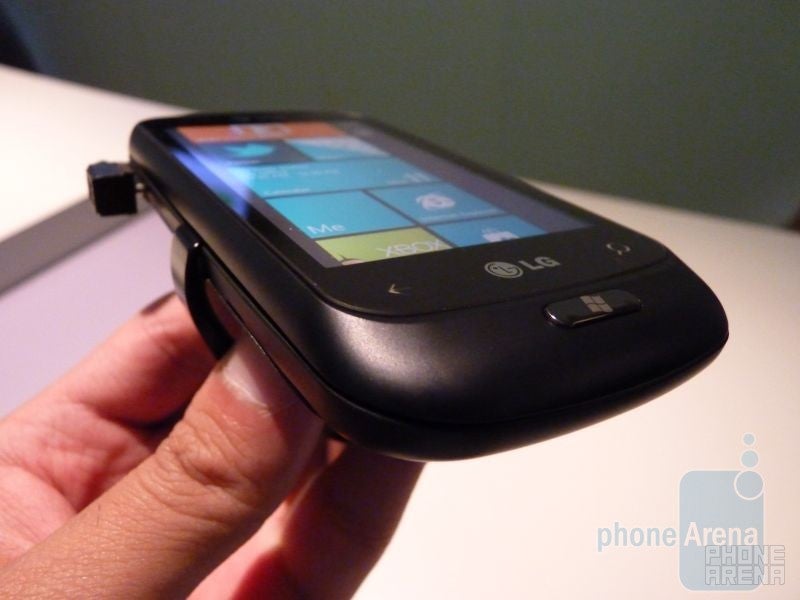 HTC Surround
Last, but certainly not least, is none other than the HTC Surround which actually follows strongly with its name when you look at its design. Between the three handsets unveiled at the press event, we were thoroughly impressed with its sturdy metallic exterior which instantly makes it feel like a true high-end device from a quick pickup. HTC's quality industrial design is evident from head to toe with the Surround as it radiates a stunning device that's fitting for a new endeavor. It features a relatively decent sized 3.8" WVGA touchscreen, 1GHz processor, 5-megapixel camera with LED flash, HD video capable, and its unique integrated stereo speakers which is tucked away from view. Plus, it'll even be conducive to watch videos on the go since it even packs a healthy surprise in the form of a kickstand.
Specifically, this multimedia powerhouse hosts a myriad of items such as Dolby Mobile and SRS surround sound which will perfectly fit the needs of video and music happy individuals out there. Overall, we find the HTC Surround to be the better built handset between the three that were unveiled today – which should be expected out of a handset manufacturer that's known to craft of the best handsets out there.
Under its beautiful exterior is an equally stunning and flawless Windows Phone 7 experience that tastefully caters to the needs of many. As we've already stated, the smooth flowing nature and execution of the platform makes for one experience that's almost instantaneous in almost every aspect. Apps managed to open without much wait, while at the same time, they're beatified with some subtle transition effects that supplement the other experience. Combining that with the HTC Surround's multimedia focus, it will make it a relevant handset when it is released into the market.
HTC Surround Specifications
Recommended Stories