Best Buy Black Friday deals are looking sweet
24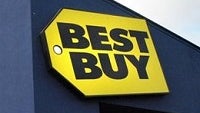 Best Buy, like a lot of companies, is tipping its hat as to what it has in store for us for its Black Friday sale and Thanksgiving weekend. For our readers outside the United States, Black Friday is the busiest shopping day of the year, and quite often, some retailers are able to recoup losses from the entire year, and end up "in the black" from that one day alone.
Some retailers take it further than others, like opening late on Thanksgiving evening or super early the next day. Best Buy has its whole weekend planned out and ready for you.
The
Apple iPhone 5C
is just $48 on a two-year agreement. You can find an Apple iPad 2 16GB for just $299 (saving you $100). Want something on the Windows side or Android flavored? Chromecast is on sale at $29.99. The
LG G2
can be had for $49.99.
The
Samsung Galaxy S 4
on AT&T, Sprint or Verizon can be had for the cool price of $0. A 32GB
Microsoft Surface RT
can be yours for just $199, an outstanding deal any way you look at it.
source:
Best Buy