Bending the Apple iPhone 6 Plus is easy if you know where to press
99+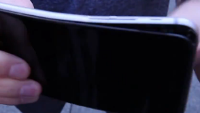 Last night, we showed you
a video from Consumer Reports that discussed the #Bendgate issue
. The not-for-profit magazine ran some tests to discover how much pressure it would take to bend a number of high-end phones. And while the video showed that it would take 90 pounds of pressure to bend the
Apple iPhone 6 Plus
, another video showed Unbox Therapy's Lewis Hilsenteger bending the phablet like it was a stick of butter. Unlike his first video, which he admitted was edited for photographic reasons, Hilsenteger did the new test in front of a live audience standing in Toronto.
Obviously, there is a trick to bending the iPhone Plus 6, and that is to understand where the handset is structurally weak. Using a picture from the iFixit teardown of the phablet, one person claims that he can see the problem. The placement of a metal insert meant to reinforce the area around the rocker buttons, is too close to the button cutouts. This prevents the bar from being effective. A picture from the Unbox Therapy video shows that Hilsenteger applied four points of pressure. And instead of being centered, his thumbs are closer to the side of the phone with the cutouts.
A CNBC video showing how Apple tests the phone, shows just three points of pressure applied, with the fulcrum in the center of the device. Apple only put 50 pounds of force on the handset, 40 pounds less than the amount Consumer Report used to get the iPhone 6 Plus to bend. But as Lewis Hilsenteger has proven, one can bend the Apple iPhone 6 Plus applying a lot less pressure than that. All you need to know is the secret.
As a postscript to the story, a Reuters reporter happened to walk into the Apple Store in Stratford, England on Saturday, and lo and behold, saw a bent Apple iPhone 6. On his Google+ page, he noted that he took pictures of the bent handset using his "
perfectly straight Galaxy Note 3
."
source:
Forbes
,
Google+