Badland game is coming to Android and BlackBerry, iPhone price slashed
4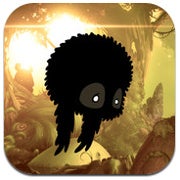 Badland is a game with immersive gameplay and outstanding visuals, but - as some other games - it is currently available only on iOS. That's about to change, though, as developer Frogmind has officially announced its plans to bring the game to Android and the BlackBerry operating system in the near future.
Badland is an action adventure platformer, a horizontal side-scrolling game that puts you in the role of a forest creature zipping through obstacles in its native surreal forest that originally was an enchanted fairy-tale like place but has now grown grim with obstacles and challenges. The game has 60 levels, and offers tons of hours of gameplay.
The game has outstanding visuals that won it the Apple 2013 Design Award, and this same looks will of course come on Android and BlackBerry. The two videos right below show the near final version of the game demonstrated on a Nexus 7 and a BlackBerry Z10.
At the same time, developers Frogmind slashed the price of Badland for iPhone and iPad to $1.99.
Badland game is coming to Android and BlackBerry, iPhone price slashed