Back to the Future trilogy on sale starting as low as $21.99 at Google Play
7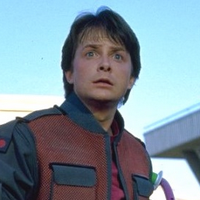 If you're a big fan of the
Back to the Future
trilogy, Google Play is having a sale that you can't miss. All three films can be purchased in SD for just $21.99. And if you want to view the classic trilogy in HD, it will cost you $29.99. HD is compatible with most iOS and Android devices, Roku, Chromecast and on your laptop. In other devices, HD will play in SD.
The regular price for the trilogy is $29.97 for the SD version and $38.97 for the HD version. So to put it in a way that you might find more enticing, the SD price represents a 27% discount, and the cost of the HD version is 23% off the regular price. And purchasing the trilogy in one package instead of buying each movie individually will save you an additional $8.
The time traveling trilogy, which stars Michael J. Fox, Christopher Lloyd and that iconic DeLorean, is the perfect shot of nostalgia for 80's fans. Some of the far-fetched things that were supposed to take place in the future have actually come true. Self-tying sneakers, hoverboards, and major league baseball in Miami are all here now. But where are the smartphones?
Bob Gale, the screenwriter who came up with all of the future gadgets seen in Back to the Future II, said that he never would have been able to conceive the device he calls "The Swiss Army Knife of today." While you won't find the smartphone in any of the films, you can watch all three movies right from your handset.
source: GooglePlay
(Back to the Future)
via
Phandroid