Aukey 20,000mAh power bank just $27.99 from Amazon with promo code
1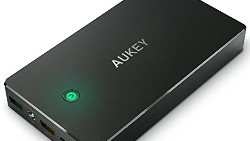 When your phone's battery life is down to 10%, you start to feel it. The shakiness and feeling in the pit of your stomach is there to remind you that you are about to be cut off from the outside world. And if you're a real power user, those native battery savers that shut down apps and limit certain features only have a limited effect. If you know that there will be no outlets available to plug your handset in to, all that is left is to count down each percentage drop until you hit 0%. However, there is one device that you can buy that will immediately make life worth living again; that device would be the power bank.
Speaking of power banks. Amazon is running a deal on Aukey's 20,000mAh unit. With that much juice inside, you'll be able to charge up an
Apple iPhone 7
up to 6.5 times or a
Samsung Galaxy S7 edge
up to 3.5 times. With Quick Charge 2.0 support, compatible devices charge up to 75% faster than conventional charging.
Carrying around 20,000mAh of battery life at your beck and call is an awesome feeling because it pretty much assures you of having enough battery life to run your phone for days. And at $27.99, not too many units are going to remain available. Don't miss out on this opportunity to stop worrying about your phone's battery dying.
To order this power bank, click on the sourcelink. You'll be taken to Amazon where the regular price for the device is $43. Amazon has it listed for $34.99, but if you type in the promo code of AUK2MAHQ at checkout, the price is reduced to $27.99 for a 35% savings. And if you have Amazon Prime, it will come in two days with free shipping.
source:
Amazon
via
AndroidAuthority