The Asus ROG Phone is announced: it's meant to make headshots, but it aims at gamers' hearts
44
Mobile games are becoming a huge deal, there's no denying that. With phones becoming as powerful as a portable PC, developers have much more resources to work with. We've seen ports of popular console games work on smartphones, but also titles developed specifically for the mobile platform run with stunning graphics and framerates.
Well, if you have the right hardware that is.
Late last year, Razer jumped in the frey that is the smartphone market with its own first-ever handset — the Razer Phone. Now, Asus strikes back with the official announcement of the Asus ROG Phone. Meant as a part of the whole Republic of Gamers gaming hardware ecosystem, the ROG Phone offers top-tier hardware as well as some extra perks meant to please the hardcore powerusers.
Design and display
The Asus ROG Phone is unmistakably a gamer device. A full metal body with a glass back is accented throughout with aggressive-looking streaks and lines. A speacial vent at the back makes sure your processor gets enough cooling in order to keep pumping out those frames and quality graphics. Two speakers on the front deliver stereo sound, but don't worry — there's still a headphone jack next to the USB Type-C port at the bottom.
The display is an 18:9 AMOLED panel with the super-impressive refresh rate of 90 Hz. Sure, Asus didn't hit Razer's mark of 120 Hz, but let's not forget we have AMOLED vs LCD technology here. Asus' achievement is quite impressive and we'd love to see how it holds up in person.
Here's the big deal — the Asus ROG Phone actually has triggers embedded in the side of its frame. You can program each trigger for an exact action — be it a swipe or a tap. In other words, you can simulate holding a controller and you will finally be able to play shooter games on your phone more comfortably. When not in-game, the triggers can be programmed as app shortcuts. Asus also claims that the phone's enhanced haptics will make the device vibrate much like a conventional controller.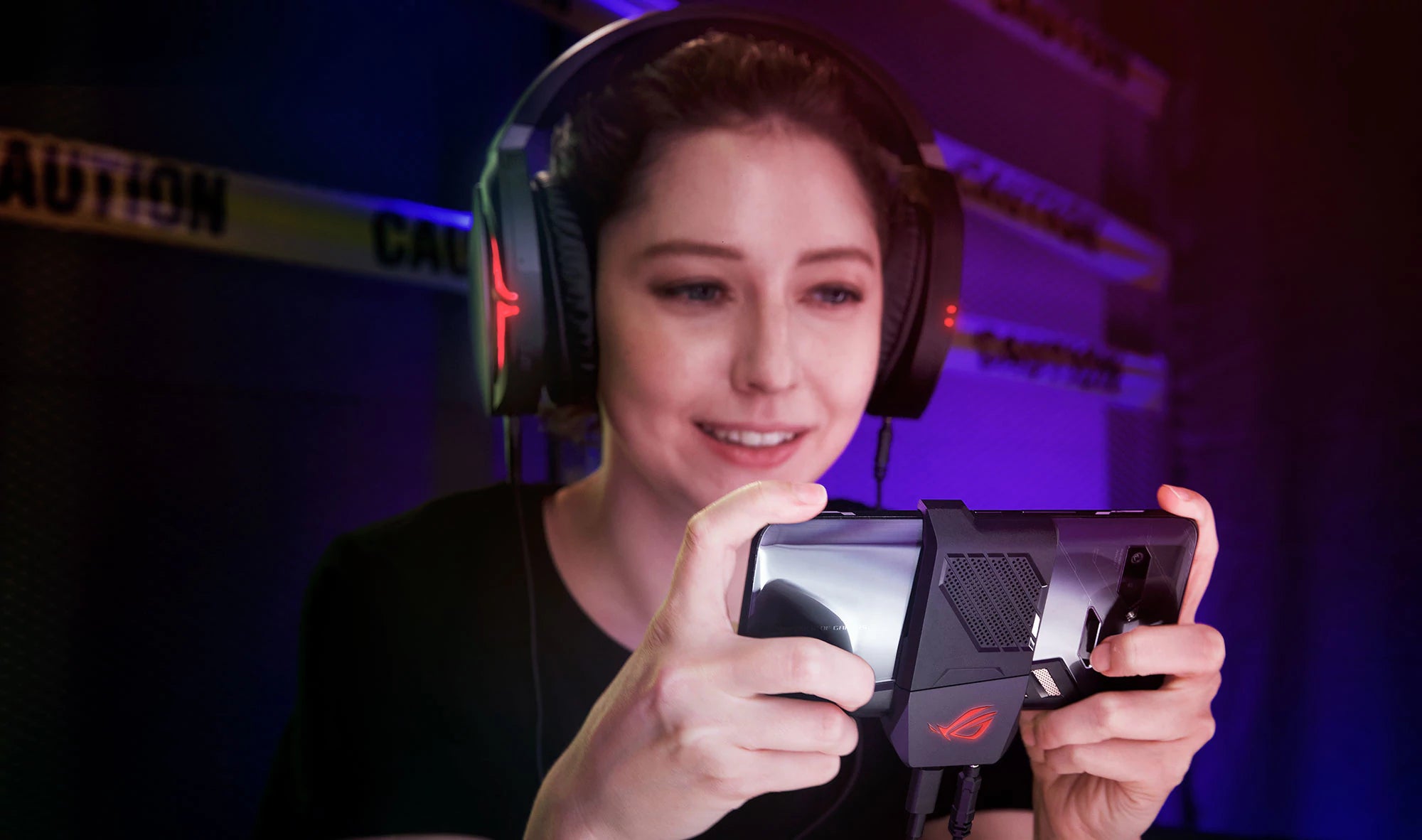 Hardware and enhancements
Of course you can expect the latest-and-greatest in commercially-available hardware to be shoved into a smartphone that's marketed as a gamer's dream. An octa-core Qualcomm Snapdragon 845 clocked at 2.96 GHz ticks inside, a generous 8 GB of RAM chip takes care of multitasking, and you've got a choice between 128 GB and 512 GB of storage.
There's a dual camera module on the back — a 12 MP main camera and an 8 MP secondary camera with a 120-degree wide-angle lens. On the front, there's an 8 MP snapper.
All of this is kept on by a rather generous 4,000 mAh battery, which should last you quite a bit on a single charge unless you are blasting through multiple matches of Fortnite, that is.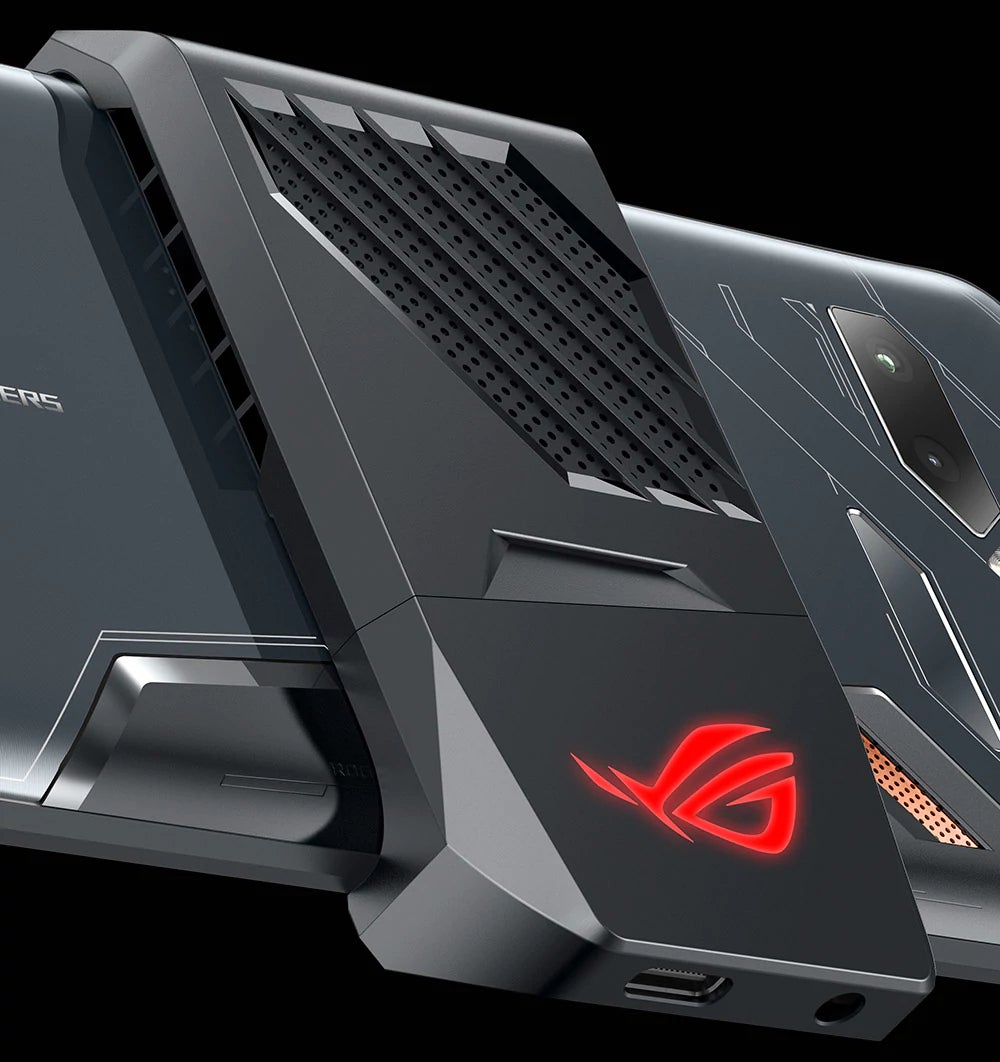 But what's cooler is that there are plenty of accessories to enhance your experience with the ROG Phone. For one, there's the included AeroActive Cooler, which can be attached to your phone via a proprietary port on the side. Granted, it kind of spoils the aesthetics, but the extra device is there to provide extra cooling for your phone when you are in the middle of an intense gaming session and the chassis is already burning up. It has ports for charging and headphones that lead the cables away from your grip as you play, so that you can plug your cables in a more comfortable spot during prolonged gaming sessions.
There's the Mobile Desktop Dock, which will let you power a 4K monitor and a set of keyboard and mouse peripherals to get a desktop experience a-la Samsung DeX and similar products.
The TwinView Dock is a clamshell-type handheld console with its own display. Pur the ROG Phone in there and it lights up with both available displays, opening up possibilities for game developers to use two screens independently. Alternatively, you can use the two screens to multitask. The clamshell houses an extra 6,000 mAh battery so that you don't drain your phone's battery halfway through the day.
Lastly, a WiGig Dock will let you mirror your phone's display wirelessly to your living room TV, giving you a larger screen to play on in a jiffy.
Price and release
There's no word on what the price for the ROG Phone would be, but given the specs and the brand history of the Republic of Gamers products, we wouldn't expect it to be cheap. The docks also seem to be separate purchases, but at least the AeroActive Cooler going to come in the box.
As far as release date goes — all we know is that it's slated for Q3 of 2018. This gives enough time for Razer to clap back with an eventual Razer Phone 2.
Recommended Stories