Asphalt 8: Airborne goes free on Apple App Store
9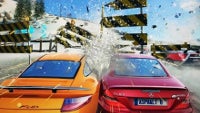 Asphalt 8: Airborne, one of the most addictive arcade racing games we've ever played on mobile, has gone free on the Apple App Store as part of the 'App Of The Week' promo.
Asphalt 8 comes with jaw-dropping graphics and tracks from exotic places in the real world. It is packed with cars probably everyone wants to drive one day and you get your chance on the mobile display, but you'd first need to beat your opponents in as many as 120 different challenges and gain money to buy the most luxurious vehicles out there.
We fell instantly in love with Asphalt 8 once it launched and it's been one of our favorite games of the year so far. We concluded our review with the following words:
"Asphalt 8: Airborne is the best arcade racing game we've ever played on mobile. Playing it feels like not simply watching, but being in an action movie. It's dynamic, aggressive, fun, but leave your expectations for realism out. With gorgeous graphics, great matching soundtrack and tons of replay value, we definitely recommend you try it yourself. See you on the tracks."
Needless to say, we'd recomment you try it out, the links are right below.
Download Asphalt 8: Airborne on
iOS
|
Android