Are more Google Nexus 4 orders about to get shipped?
24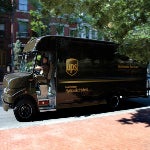 Some of those who have pre-ordered the
Google Nexus 4
have noticed a few changes in their credit card order status. First, we'd like to point out that these orders date back to late November which means it has been a long wait for these poor souls. Day after day, they checked into their account at the Google Play Store only to find
no change
and no clue as to when their eagerly awaited phone might ship.
pending charge
on their credit card when they checked into their Google Play Store account, while the date on the account page updated to December 27th. The change in credit card status occured for those who ordered both the 8GB and 16GB models, and not everyone waiting on the phone has had their status updated.
While a change in credit card status is far from definitive proof that the phone is shipping, after weeks of no changes to these accounts, it does seem that there is progress in the right direction. And yes, if you ordered the unit as a gift, it will be a belated holiday present. But when you think about what you have ordered and how much you are paying without having to get locked up for two-years, all of the headaches and heartaches just seem to melt away, don't they.
Meanwhile, the
Nexus Availability Checker app
we told you about on Thursday, continues to show all devices and accessories as being sold out.
source:
AndroidCentralForum