Are Verizon's Android customers paying through the nose to subsidize iPhone prices??!
70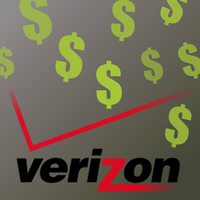 Verizon charges a lot for its Android phones. Looking at comparable phones on other networks, you can see that
Verizon routinely charges $100 for an Android phone that's identical but for the addition of an LTE radio
. Verizon has justified this by claiming that LTE phones are "premium" devices, but the reality is that an LTE radio doesn't dramatically increase the cost of a phone.
Examining industry subsidies and the timing of Verizon's change in price structure has led some industry observers to a darker explanation of their pricing strategy:
Verizon may be raising prices on Android phones to offset the large subsidies they have to pay Apple for the iPhone.
Apple has negotiated a
~$450 subsidy
for every iPhone a carrier sells on contract. It's an industry-leading number that other handset manufacturers can't command. To be fair, Apple has created much sought-after products, and their popularity is why carriers will agree to their terms. Still, as a result companies like Sprint and Verizon see their profit margins shrink when they added the iPhone to their stable of mobile devices.
Sprint famously had to pony up
$15.5 billion dollars
in guaranteed money to land the iPhone, while some foreign carriers
have had to drop
Apple's products due to the high subsidy. Verizon may have found a different way to make up that revenue: adding $50-100 to the on-contract pricing of their leading Android handsets.
Recall that the CDMA iPhone 4 and the HTC Thunderbolt dropped at about the same time, and while the iPhone 4 started at the usual $199, the Thunderbolt was increased to a
$249 on-contract pricing
.
Verizon saw its
margins shrink
in the first quarter with brisk iPhone sales, but in Q2 Verizon upped the on-contract price of the
Droid Charge to $299
, and that's been the cost of high-end Android handsets on Verizon ever since.
Phones like the
Droid RAZR
are not significantly more expensive to make than last year's top-of-the-line Android devices. So the conclusion some have drawn is that Verizon is padding their bottom line to offset the impact the iPhone has on their margins.
What do you think? Does the cost of rolling out Verizon's LTE network make it worth the price bump? Is Big Red robbing Peter to go pay Paul? Is it all some crazy conspiracy theory?
Let us know your thoughts in the comments below, but please try to make this a constructive exchange of ideas!
source:
Apple Insider