Apple's patent application aims for on-the-go recharging for the Apple iPad using the Smart Cover
11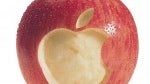 Apple has filed with the USPTO seeking a patent on "Integrated inductive charging in protective cover," which is a Smart Cover for the Apple iPad featuring built in
wireless charging capabilities
. In this case, a Smart Cover would contain the power transmitter and in some variants, also have the batteries embedded right in the padding for wireless charging of your Apple iPad on the fly. The patent was originally filed in September 2011 with Justin Richard Wodrich and Stephen Robert McClure as the inventors.
To pass the power into the tablet as effectively and efficiently as possible, the Apple iPad would have a receiver that would be coupled with the transmitter in the Smart Cover using the magnets in the latter to perfectly align the two. Charging wouldn't start until the
flap is closed
, covering the display. Another part of the application describes the table being able to automatically start seeking power from the Smart Cover when the slate is not plugged into an outlet.
"In the described embodiments, the body portion includes an inductive power transmitter arranged to wirelessly pass power to a corresponding inductive power receiver unit disposed within the tablet device by inductively coupling, at least a first magnetic element, and at least a second magnetic element used to secure the body portion to the display in a closed configuration."-from Apple's patent application, "Integrated inductive charging in protective cover."
The Smart Cover itself does need to be charged in order to power up the embedded batteries. But solar panels are also placed on the outside to collect energy while the user is out and about.
Besides having to add the necessary technology to the Smart Cover, the Apple iPad itself would
need to be reconfigured
to add the inductive charging circuitry mentioned in the patent, but not included in the current build of the device.
source:
USPTO
via
AppleInsider