Apple's iPad and iPad mini are the most touch responsive tablets, Android lags behind
51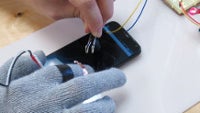 Apple's 9.7" iPad and the iPad mini are the most responsive tablets out there, more responsive than Android tablets and Windows' Surface slates. After releasing a study on touch responsiveness for phones, researchers from Agawi have published a comparison of how responsive popular tablets are.
The results are interesting because they show a pretty big difference in touch responsiveness between Apple products and Android devices. What's even more interesting however is decoding where that difference comes from - is it an inherent one for the platform, or is it good optimization from Apple. We are yet to try and find an answer to this question.
Back to the actual touch responsiveness results, you'd see that the Apple iPad mini actually wins as it scores even better than the 9.7" iPad. The Nvidia Shield follows closely, and Microsoft's Surface also ranks well. Android tablets score disappointingly low, more than 100ms.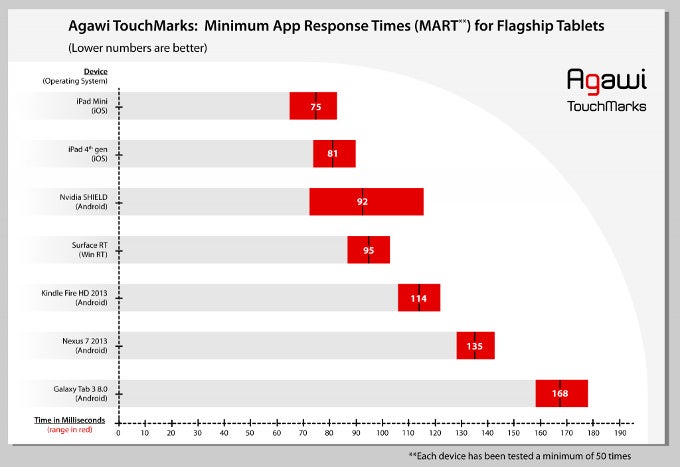 Now, to understand these results (right below), you'd need to understand touch responsiveness, or the delay between you touch the screen and it reacts. Earlier research has shown that the current average of 100ms comes with a delay that the user can perceive - try writing something with a stylus and you'd see your writing trail your finger with a noticeable delay. At 50ms it's still noticeable, but not so much. At 10ms, the delay is still visible, but much less. At 1ms it's gone - the human eye perceives it as if it's not there.
So while we're still way off that 1ms ideal, on tablets the iPad mini and iPad are getting there fastest, but still slower than phones like the
Apple iPhone 5 that scored a whopping 55ms response times
. With no further ado, here are the touch response times for various devices.
source:
Agawi