Apple's iOS 6 beta Maps app compared to Google Maps
72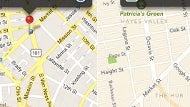 If you downloaded the developer beta of iOS 6 and tried out its most distinctive feature -
Cupertino's own Maps app
- you might have noticed something's lacking compared to the previous Maps app, which was powered by Google's tech.
That something is not only Street View, which can be somewhat compensated by the
Flyover function in iOS 6
, but the actual level of street detail that the fledgling new maps and navigational software of Apple reveals.
Granted, the app is still in beta, and there could be many more changes before the final version of iOS 6 is released, but if it doesn't match Google Maps by that time, many users who were accustomed to the detailed cartography coming from Mountain View, might want to have Google's navigational solution as an alternative app while Apple and
Tom Tom
iron out the kinks. Have a look at the current differences in the slides below, with Google Maps on the left.