Apple Maps app is powered by TomTom
9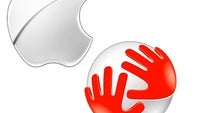 In what is surely among the shortest press releases in recent history,
TomTom announced that it has partnered up with Apple
.
"TomTom has signed a global agreement with Apple for maps and related information. No further details of the agreement will be provided"
, the release states.
Talk about secrecy
. Of course, the reason behind this partnership is Apple's new Maps application, which will replace Google Maps in iOS 6. While most of the technology behind the new app is courtesy of Apple, apparently, TomTom will be providing the map data.
The Maps application that will debut in iOS 6 is a free tool that features turn-by-turn navigation, along with real-time traffic information. Furthermore, it is powered by Siri, so instead of fiddling with buttons and menus, users will simply need to speak the required directions out loud. There is a 3D mode as well called Flyover, which delivers a detailed, bird's eye view of cities, much like what we have seen in Google Maps.
But the Maps app is just one of the many features that have been implemented in iOS 6. To read more about the rest, check out our
WWDC 2012 and iOS 6 coverage
.