Apple's iOS 4.3 brings improved AirPlay, iTunes Home Sharing, and a number of other goodies
8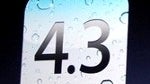 Apple announced iOS 4.3 today, with a focus on improved JavaScript rendering,
iTunes Home Sharing
to stream media from your computer to your iDevice, AirPlay improvements, and a bunch of other good stuff.
First off,
JavaScript rendering
in Safari is now twice as fast. We
measured
how in dual-core phones and tablets, like in the
LG Optimus 2X
, JavaScript processing speeds were dramatically improved. The same thing now goes for the dual-core iPad 2, so no surprise here. As for Adobe Flash - nah, forget it.
We'll now take advantage of something called
iTunes Home Sharing
, which basically is streaming multimedia content from your iTunes library on your computer (Mac or PC) via your home wireless network to your iPad or iPhone.
AirPlay
has also received an update, now able to stream home movies from your Photos app via Apple TV, and even from AirPlay-enabled websites.
With iOS 4.3 you can now share your GSM iPhone 4's internet connection with your iPad too -
Personal Hotspot
for up to five devices is finally here, but we bet AT&T will still charge. Yeah, no need to tell you this 4.3 update is only for GSM iPhones, Verizon's crop will have to wait, but it has the function anyway in its own version of the iOS software.
The
PhotoBooth
camera software is now standard on the iPad 2, and the Apple folk demoed up to 9 live video streams with different effects like kaleidoscope or thermal vision, that can appear on the tablet's screen at once. The list goes on with
iMovie
(still $4.99, coming March 11th in the App Store) for iOS with a number of new features for serious video editing, as well as
GarageBand
, which will be available for the tablet now in the App Store, tailored to the bigger screen experience.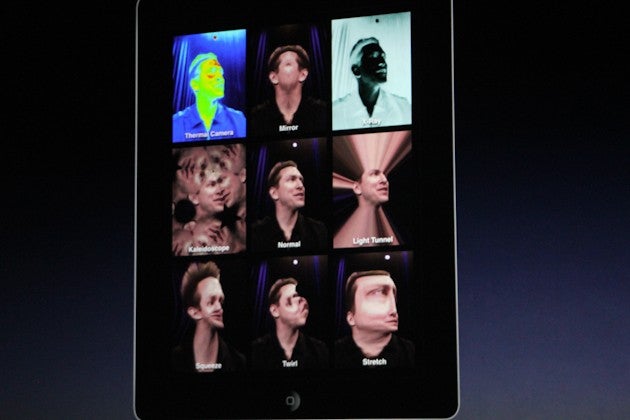 PhotoBooth camera software. Image courtesy of PCMag
Of course, since we now have two cameras on the iPad 2, iOS 4.3, which seems to be tailored as a tablet version before anything else, supports FaceTime through the
VGA front camera
, while the rear one shoots
HD video
still, no Full HD for you.
All in all, incremental updates, but wrapped up beautifully, and everything seemed fluid and functional. What do you think?
source:
Apple