Apple's Christie takes the stand, talks about "slide-to-unlock" during patent trial
99+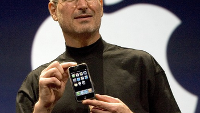 The Apple-Samsung patent trial wrapped up its first week, with Apple software engineer Greg Christie on the stand. Christie, who
had recently given some insight about the Apple iPhone's early days
, spoke under oath about the "slide-to-unlock" feature, covered by one of the five patents that Apple claims was infringed on by Samsung.
According to Christie, Apple originally wanted the
Apple iPhone
to be an "always-on" device. But having a phone that needed to be ready to light up a screen at the touch of a finger, required a power requirement that could not be met for such an active state. It was decided to add a power button to the phone. Eventually, the "slide-to-unlock" tool was added to the iPhone to prevent pocket dialing and accidental screen inputs.
Christie revealed that the iPhone project was originally called
Project Purple
, and the focus of the design was to make the handset so easy to use so that "
normal people -- people with better things to do with their lives than learn how a computer might work -- to use the product as well as we can
." Steve Jobs, Apple's CEO at the time, was updated on the progress of the iPhone team every two weeks, at one point threatening to give the project to a new team when he wasn't happy with the progress being made.
The five patents that Apple is claiming that Samsung infringed on, include Nos. 5,946,647; 6,847,959; 7,761,414; 8,046,721; and 8,074,172. The '647 patent relates to quick links, while the '959 deals with universal search. Background syncing is the focus of '414 while "slide-to-unlock" revolves around '721. The '127 is about automatic word correction.
The patents that Samsung claims that Apple infringed on include 6,226,449 and 5,579,239. The '449 was purchased by Samsung from Hitachi and deals with camera and folder organization. The '239 patent, also bought by Samsung, covers video transmissions.
Samsung phones and tablets Apple listed in its court filings include the
Samsung Admire
,
Samsung GALAXY Nexus
,
Samsung GALAXY Note
,
Samsung GALAXY Note II
,
Samsung Galaxy S II
,
Samsung Galaxy S II Epic 4G Touch
,
Samsung Galaxy S II Skyrocket
,
Samsung Galaxy S III
,
Samsung Galaxy Tab 2 10.1
, and the
Samsung Stratosphere
. Samsung's filings include the
Apple iPhone 4
,
Apple iPhone 4s
,
Apple iPhone 5
,
Apple iPad 2
,
Apple iPad 3
,
Apple iPad 4
,
Apple iPad mini
,
Apple iPod Touch (fifth generation)
and the
Apple iPod Touch (fourth generation)
.
Court will be in session each Monday, Tuesday and Friday, and testimony is expected to be heard until April 30th. Once the jury gets the case, they will deliberate everyday until a verdict is reached.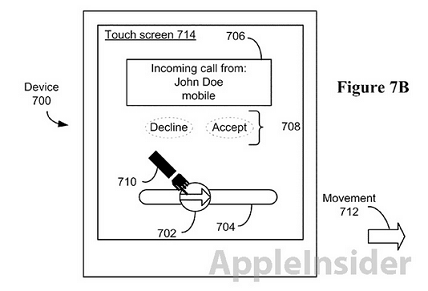 Illustration from Apple's patent for the "slide-to-unlock" tool
source:
CNET
,
AppleInsider