Apple's 64-bit A7 processor offers "zero benefit" according to Qualcomm
99+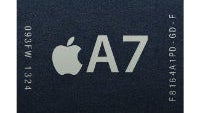 There has been a lot of chatter surrounding the idea of 64-bit mobile processors ever since Apple used it as marketing buzz with its new iPhone 5s. We pointed out that it could be a while before iOS users actually see any real benefit from the
64-bit A7 processor
, and now Qualcomm is saying that the processor will actually offer "zero benefit" to users.
As we have pointed out, the main advantage of 64-bit processing is in addressing over 4GB of RAM, and the iPhone 5s only offers 1GB of RAM. Qualcomm's senior vice president and chief marketing officer, Anand Chandrasekher, echoes this point and adds "You don't really need it for performance, and the kinds of applications that 64-bit get used in mostly are large, server-class applications." He also says on the topic:
I know there's a lot of noise because Apple did [64-bit] on their A7. I think they are doing a marketing gimmick. There's zero benefit a consumer gets from that.
Chandrasekher also said that it "makes sense" for Qualcomm to get into 64-bit mobile chips "from an engineering efficiency standpoint", so it does make his comments a bit odd. He did not say when Qualcomm would introduce a 64-bit chip, but did say that he doesn't believe consumer or hardware makers will be drive demand for 64-bit chips. That makes us wonder what exactly would would drive demand, if anything.
Of course, the noise about 64-bit has extended beyond Apple, because Samsung has not only promised "
64-bit functionality
", we have heard that Samsung is in the final stages of designing a
64-bit Exynos
processor. And, since Android already has 64-bit support built in because of its Linux kernel base, it should be easy enough for Samsung to implement. But, Samsung will face the same issue that apps won't be optimized, so the actual benefits could be negligible.