The iPhone 5S' 64-bit processor is for marketing not performance benefits
99+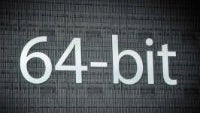 Apple's iPhone 5S announcement today was a very strange one for Apple, because Apple more often than not focuses on the software side of things rather than digging into specs and hardware. But, today's announcement had the Apple team basically skimming over all of the iOS 7 changes, and focusing on the big hardware changes of the iPhone 5S like the fingerprint scanner, camera, and new
64-bit A7 processor
.
The fingerprint scanner and camera look like pretty solid pieces of hardware, and upgrades that should make for a noticeable difference in usage for the average consumer. But, then there is the new 64-bit A7 processor. Look, the processor itself is undoubtedly going to be faster, provide better graphics performance, and maybe even help with battery life, but none of that really has anything to do with the fact that the A7 is the "first 64-bit processor in a mobile device".
Here's the problem: the main benefit of 64-bit architecture is in being able to surpass the 32-bit limit of 4GB of RAM. As you may have heard, the iPhone only has 1GB of RAM, and the most we've seen from any smartphone is 3GB in the Samsung Galaxy Note 3. iOS 7 has been optimized, so the system may get slight boosts from the shift, but it won't be much. Otherwise, users live in apps, not in the system, and even apps that are optimized for 64-bit won't see that much of a performance bump. And, most apps will be slow to fully adopt the 64-bit architecture because of the wealth of iOS devices that are 32-bit only.
Ultimately, the iPhone 5S may get boosts in performance over time as Apple improves the handling of 32-bit apps, and more apps optimize for 64-bit, but really this is just a push by Apple to capture the spec geeks who think that bigger is always better, even though the reality is that better is always better, and there's nothing better about a 64-bit mobile chip just yet.