New camera module forces Apple to make a change to the new iPhones that everyone will notice
19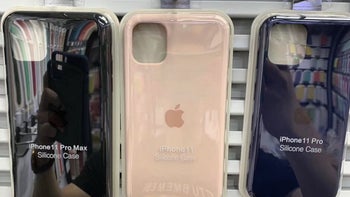 On September 10th, Apple is expected to unveil its three new 2019 iPhone models
. All three will carry the controversial square camera module on the upper left corner of their rear glass panels and the trio will be powered by the A13 Bionic chipset manufactured by TSMC using its 7nm process. Two of the models could be "Pro" versions and will sport an AMOLED display. These units are rumored to bring support for the
Apple Pencil
and will both feature a trio of cameras on the back (a Primary + Telephoto with 2x optical zoom + ultra-wide-angle). The "non-Pro"
iPhone 11
will have an LCD screen (the Liquid Retina Display, Apple calls it) and only two cameras on the back (Primary + Telephoto). All three phones could offer reverse
wireless charging
and sport larger batteries.
Just the other day, concept device designer
Benjamin Geskin tweeted photographs of cases
(via
Redmond Pie
) for the new iPhone 11 and
iPhone 11 Pro
models already found racked-up in a store. The design of these cases included a square cutout to match the rear-mounted camera module. And it appears that the size of said camera module will force Apple to move the placement of its iconic Apple trademark down to the center of the rear panel this year. The result will be, for the very first time, a more balanced look for the back of the iPhone.
The 2019 iPhones might have a balanced Apple logo on the back, but don't expect it to light up

This isn't a big deal in the scheme of things, but for iPhone fans who have always wanted Apple to do something with its logo on the back of the handset, this is a huge design change. Not as useful though as
the "logo as notification light" rumor that surfaced during the summer of 2014
before the unveiling of the
iPhone 6
. Back in those days, with word of a major redesign on the way, any pie-in-the-sky thought was seen as a possibility. Leaked photos allegedly showing the rear casing for the device revealed a new plastic Apple logo that was thin enough to allow light through. Different colors were supposed to light up the logo, each indicating a different type of notification. Needless to say, this never happened. However, back in 2011, we told you about
a kit that sold for $43 which turned the Apple logo into a glowing light
. Making this type of customization would have resulted in the voiding of the device's warranty.
Don't kid yourself, the Apple logo is a big part of the iPhone mystique. And that is the case even if you're not an obsessive fanboy that worries about the placement of every component of an iPhone. Some might even tell you that the logo is the most distinctive part of the handset since it tells everyone that the device you have in your hands is indeed an iPhone.