Motorola Moto E5 leaks out - the first modern Moto phone with a rear fingerprint scanner
12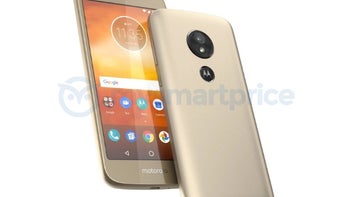 After the Moto E4 and Moto E4 Plus of last year (bothreleased as attractive cheap smartphones), Lenovo and Motorola Mobility are nowseemingly planning to introduce a Moto E5 family. While official details aboutthis are currently missing, a render that allegedly shows a Moto E5 was just revealedby Indian website MySmartPrice.
Unlike the Moto E4 and E4 Plus, which - similar to all recent Moto handsets - feature fingerprint scanners embedded on the front, the Moto E5 comeswith a rear fingerprint scanner. The scanner is embedded into the Moto logo,just below the main camera.
In case you're wondering, the Moto E5 is not the firstMotorola smartphone with a rear fingerprint scanner. This title belongs to theMotorola Atrix, which, in 2011, became the world's first Android handset to featurea fingerprint sensor (this was two years before Apple launched its first iPhonewith TouchID).
Relocated fingerprint sensor aside, the Moto E5 looks a lotlike the Moto E4, and it even has a similar front-facing LED flash to accompanyits selfie camera. For now, details about most of the new phone's features aremissing, but we're certainly expecting this to be a fairly low-end (and affordable) device.
The Moto E5 could be officially announced as soon as April, and we're assuming it will be sold both unlocked, and via some carriers in the US.
source: MySmartPrice