Here's how you can make your iPhone's Apple logo glow
10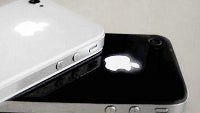 Here's a super simple mod for your iPhone that will make its
logo glow
just like the one on a MacBook - it just takes around five minutes to unscrew the rear panel of your iPhone (and void your warranty along the way, so be warned). You'd also need screwdrivers and sticky tape, and that's about it.
To mod your iPhone with a cool glowing logo, along with the instructions in the video below you'd need a
$43 kit
which is selling for a very very limited time on KOGadget's Facebook page. There's limited quantities available with more promised only later on, when the initial demand is met, so keep on checking that webpage at the source link below if you're interested.
Also, the whole modding won't make your iPhone thicker or any different, so you'd still be able to outfit the handset with your favorite case. The glowing logo uses the iPhone's battery power but it should be a minimal drain which you probably won't even notice.