The Apple logo on the iPhone 6 could be a notification light
69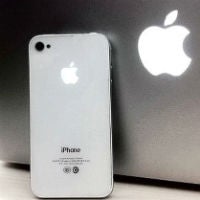 We've seen plenty of leaks that have given us the general idea of what to expect in terms of the external design of the iPhone 6, but there is still potential for a few surprises. One of those surprises could come from the Apple logo that is on the back of the device. A new leak is firing up rumors that the Apple logo could even be a notification light.
Or, at the very least, it seems like the Apple logo will light up. We're not confident enough in the leaks to jump all the way to it being a notification light. The rumor began because of images that show the rear of the iPhone 6 case housing. The images come from
USwitch
, but have reportedly been verified by Apple mega-leaker Sonny Dickson. It shows that the rear of the iPhone has a new plastic Apple logo that is thin enough to allow light through. This makes sense because the Apple logo on Macbooks for a while now, so it wouldn't be a surprise for Apple to add a little more flare to iOS devices.
The rumors are also going above and beyond to speculate that the logo could also double as a notification light, and either flash different colors for different types of notifications (just like some Android devices have done for over 4 years), or show actual bits of information or symbols for the notifications. Frankly, until we see more leaks on that, we don't believe that it will go that far. It is certainly possible, but there is no evidence to support anything more than saying the iPhone 6 logo will likely glow a bit and look cool.