Apple unveils the iPhone 8 and iPhone 8 Plus: updated design, wireless charging, better cameras
75
There's a faint chance you may have heard the news already, but here goes anyway: today, at what is quite possibly its biggest product launch event in a decade, a small company called Apple has announced its latest bunch of smartphone models.
Nice.
But while the star of the show is most definitely the premium
iPhone X
, 2017 is also a year slated for a refresh of last year's 7 and 7 Plus — if we were to follow Apple's device release schedule. So it would make sense that these would be called the iPhone 7s and 7s Plus, right?
Well, yes, but they are not — the phones we're looking at today are actually named the
iPhone 8
and
iPhone 8 Plus
.
And while it's pretty clear this is mostly a marketing strategy to make the two models look less iterative and conventional when compared with the considerably more exotic iPhone X, there's still a fair amount of new features to warrant the bump to 8.

With that said, let's take a deeper look at the duo and see what all the fuss is about:
A familiar, beautiful design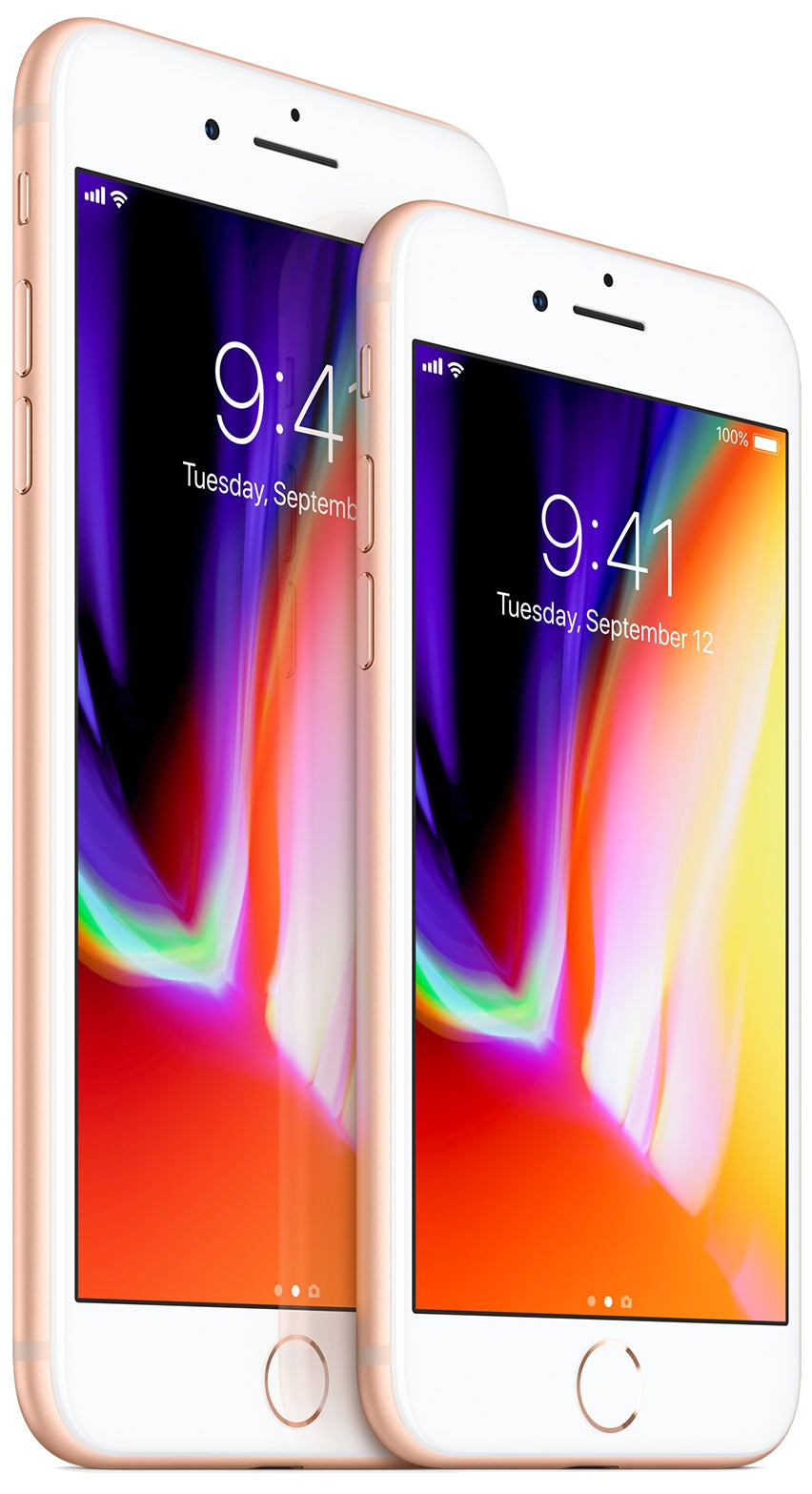 If you've seen, touched, smelled, or heard about any of last year's iPhone 7 models, then you already know exactly what the 8 duo looks like. There's the standard 16:9 LCD display and Touch ID sensor on the front, as well as the camera module on the back, all of which is stuffed in a sleek aluminum shell…
Hold up, this isn't right.
As it turns out, the iPhone 8 siblings deviate from their predecessors by sporting a sleek all-glass back. And this necessitates another design change: where the old 6 and 7 models featured a singular shell whose looks were broken only by the antenna lines, this year we're faced with a three-piece glass and aluminum sandwich instead.
And while all of this results in some small changes to the devices' size and weight, these are still phones using the very same design principles first proposed by the 2014 iPhone 6 and 6 Plus duo.
So this means a couple of other, less popular design features are making a return as well: just like with the 7 duo, there is no headphone jack present, while the camera bumps on the back are unchanged on both devices. Also, just like iPhones of the past, the 8 and 8 Plus carry an IP67 rating, meaning they are dust- and splash-resistant.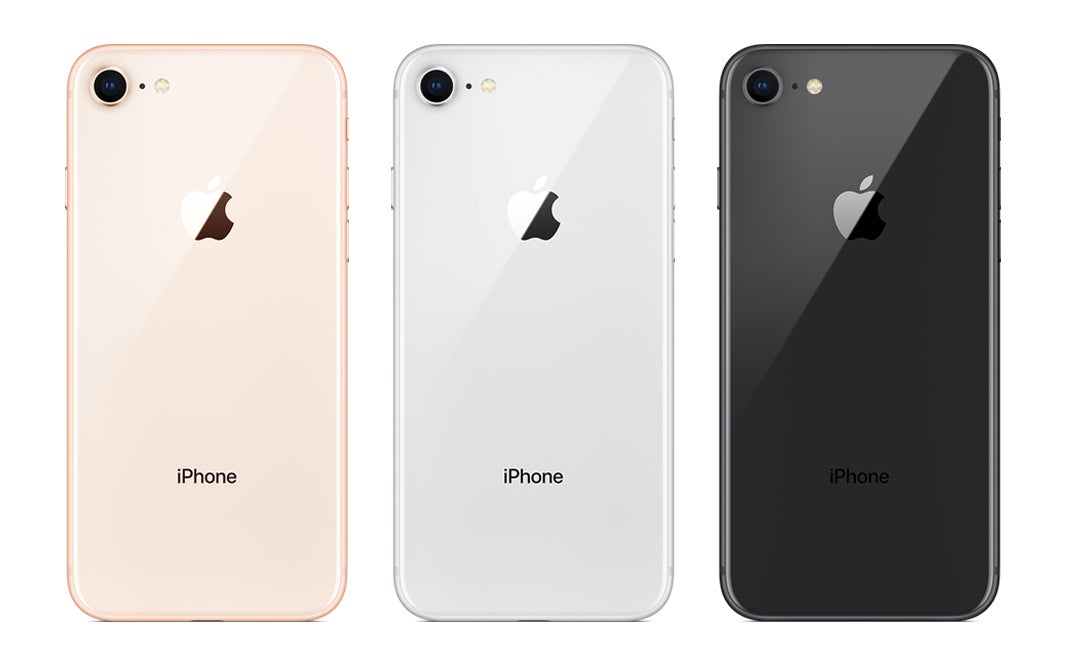 The iPhone 8 and 8 Plus will both come in three colors — Gold, Silver, and Space Gray
And lastly, Apple has elected not to give any major upgrades to the iPhone 8 and 8 Plus' displays this year — so what we're seeing here are either a 4.7-inch, 750 x 1334 display for the iPhone 8, or a 5.5-inch 1080 x 1920 one for the iPhone 8 Plus. But this also means we're once again seeing the return of 3D Touch — a feature power users would be happy to know hasn't gotten the axe.
Still, there
is
one improvement when it comes to the screens: True Tone. First debuted in the latest iPad models, this feature will adjust the color balance according to the user's surroundings, resulting in a more comfortable viewing experience.
Better-than-ever cameras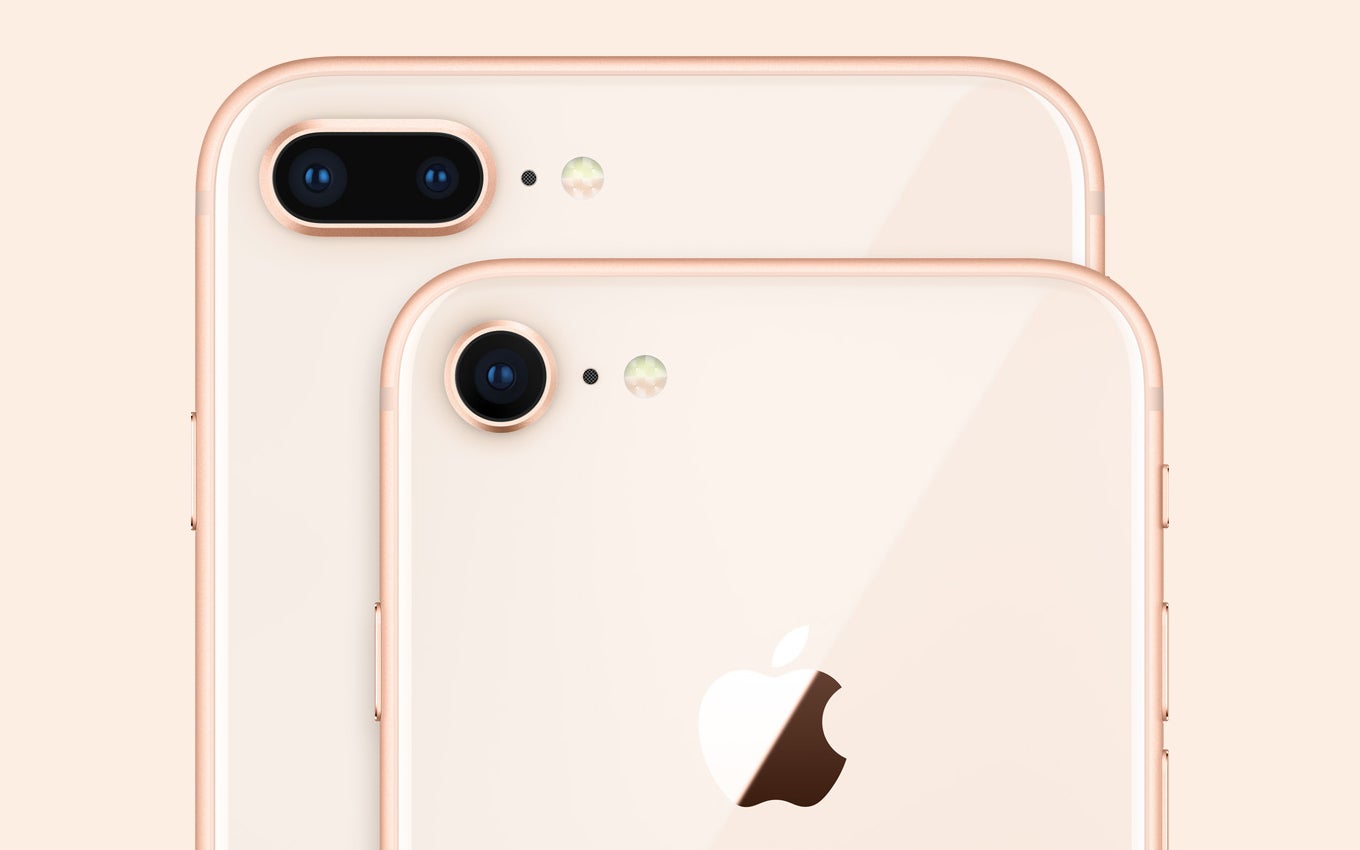 Another place where the iPhone 8 and 8 Plus improve upon last year's models are the cameras. At first glance, the specs appear to be quite similar: the iPhone 8 and 8 Plus will both get a 12 MP/7 MP sensors for the rear and front cameras respectively, while the 8 Plus's rear module will also feature a second, 2x zoom camera.
However, Apple says the sensors found inside are brand-new, which means image quality is set to get a welcome boost. Moreover, there have been a ton of improvements on the software side as well — for example, the 8 Plus' Portrait Mode will be expanded with the so-called "Portrait Lighting" feature, which will enable for real-time color optimizations Apple claims will be better than the regular filters one can find in competitors' camera apps.
In essence, the feature will make use of face detection and depth data to color photos in one of four different modes: Natural Light, which is just a rebranding of the existing Portrait Mode; Studio Light, which lights up the subject's face; Contour Light, which makes increases contrast on the subject's face; and Stage Light, which lights up the face and puts it against a black background (and also comes in a black-and-white Mono variant as well).
Video also gets a boost, thanks to Apple's new in-house video encoder, which will analyze each frame in tiny pieces and detect what each one of them contains, and then optimize video quality accordingly. Users can now take videos in 60 fps even in 4k resolution, while slow motion enthusiasts will be happy to know they will now be able to take 240 fps videos at 1080p, which is double the frames of the 7 series.
Extra power and wireless charging

A new iPhone almost always means a new Apple processor as well — and this year is no exception. The Apple A11 Bionic is Cupertino's first six-core chip, and it's designed with low-power performance in mind, though as usual it will likely excel at computationally intensive tasks as well.




In fact, Apple claims the six-core A11 Bionic is the most powerful chip "ever in a smartphone," with four low-power cores that are 70% faster than the ones in the A10 Fusion, as well as two high-power ones that perform 25% better than their predecessors. Alongside them, there's also a brand-new GPU which will be 30% faster than last year's.

Complementing the A11 Bionic are either 2 or 3 GB of RAM, for the 8 and 8 Plus respectively, which is a number some Android enthusiasts might find low, but one that will almost definitely be enough to satisfy users' needs, thanks to iOS' hardware optimizations. As for storage, it will come in two sizes: 64 GB and 256 GB for both siblings.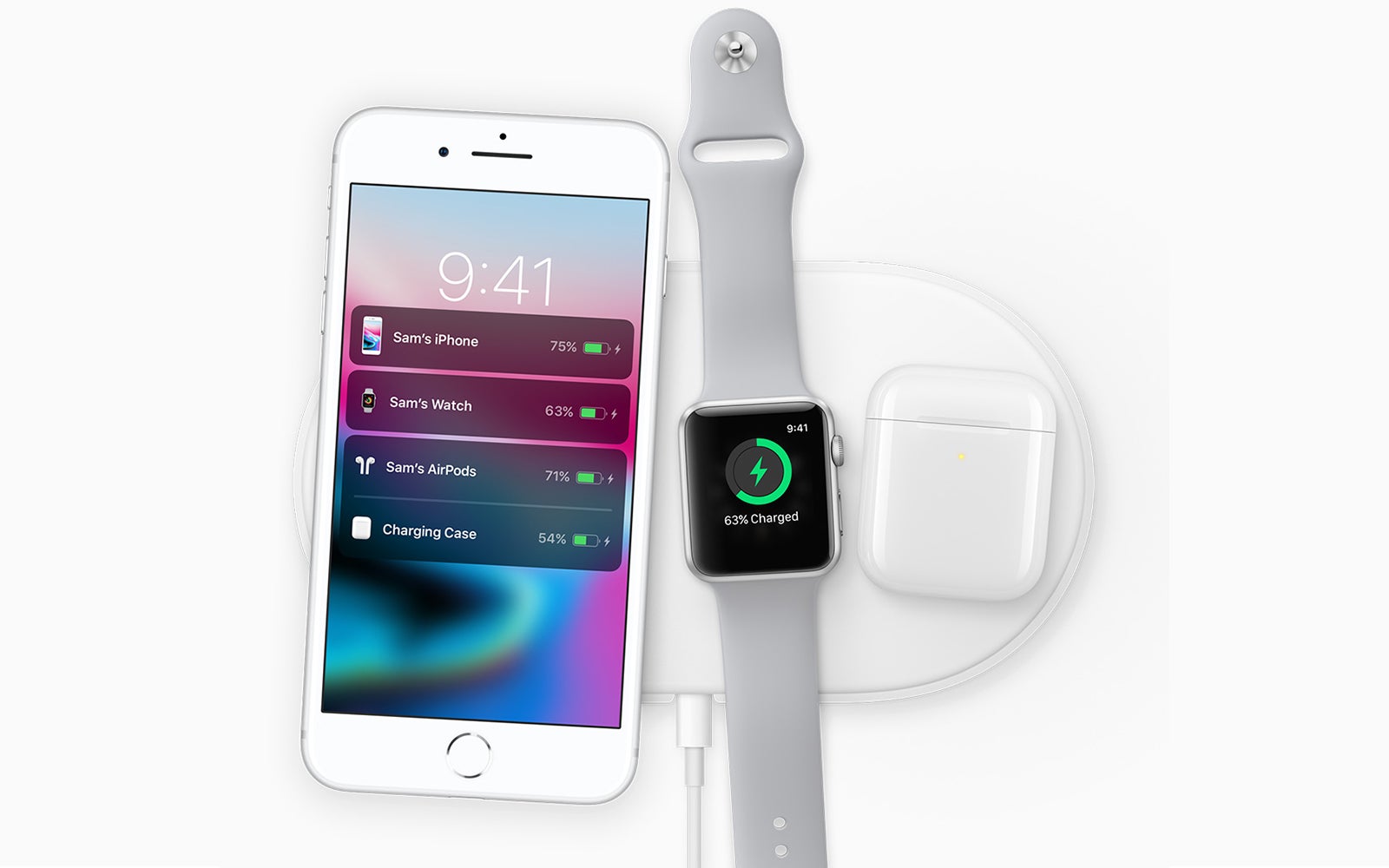 But one the biggest new additions users is definitely that of wireless charging — which is also the reason for the design shift to glass. However, don't hope for an Apple-made charging pad just yet — Apple has announced its own charging pad,called AirPower, but this will come at an unannounced date next year.
The supported standard is Qi, which has become pretty much the
de facto
one in recent years, though it's not yet clear whether Apple has opted for the faster Qi Fast Charge, which has been available on the market since 2015.
But as for the batteries themselves, this year they have been shrunk down a bit: the small iPhone 8 has a 1,821 mAh (down from the 7's 1,960 mAh), while the 8 Plus has a capacity of 2675 mAh (while the 7 Plus had 2900 mAh). On its website Apple claims battery life is "comparable" to that of last year's models, but it remains to be seen whether this claim will hold up in real-life tests.
iOS 11
As with (almost) all new iPhone product launches, there's also a new iOS version on board: iOS 11. Unfortunately, most of the new features aren't actually designed with the 8 and 8 Plus in mind — but that doesn't necessarily mean buyers of the lower-tiered duo will be getting an inferior experience.
In fact, there's a number of changes users familiar with Apple's mobile OS will immediately notice. Most notable are the refreshed app design principles, which now call for extra empty space at the top — a change made necessary due to the iPhone X's display notch, but one that ultimately leads to cleaner-looking apps. Beyond that, there is an all-new Control Center interface (with a customizable layout!), the newly-introduced Cover Sheet replacing the Notification Bar, and a freshly redesigned App Store —
among others
.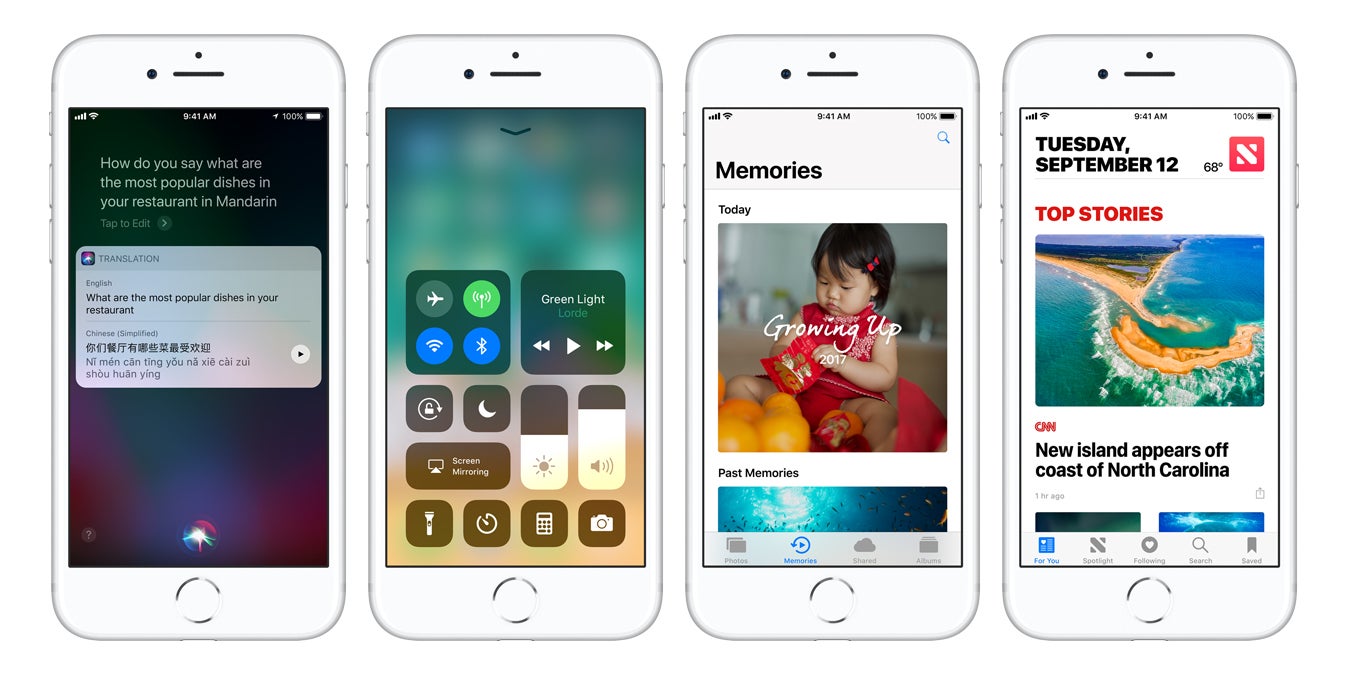 iOS also marks the debut of Apple's impressive new AR platform, ARKit — by now you've surely seen
a demo or two of it in action
, and it's fair to say it's impressive, though it remains to be seen whether developers will find better uses for it beyond the simple tech demos we've seen so far.
Price and release date

People who aren't fans of the iPhone X's high starting price will be glad to know its more conventional siblings follow Apple's previous pricing trends pretty closely. The smaller iPhone 8 will cost $699 for the variant with 64 GB of storage and $849 for the one with 256 GB, while the 8 Plus will be $799 for the 64 GB and $949 for the 256 GB option instead.




And while the trend of ever-increasing smartphone prices has been going on for a while now, it's still a bit disappointing to see the base versions start at a higher price than last year's — though, admittedly, this time the minimum storage has been doubled from last year's 32 GB.




The devices will be available for pre-order on Friday, September 15, and will hit the store shelves on Wednesday, September 22. These dates, however, apply only to the following countries, though: Australia, Austria, Belgium, Canada, China, Denmark, Finland, France, Germany, Hong Kong, Ireland, Italy, Japan, Luxembourg, Mexico, Netherlands, New Zealand, Norway, Portugal, Puerto Rico, Singapore, Spain, Sweden, Switzerland, Taiwan, UAE, the UK, the US and US Virgin Islands.




Meanwhile, customers in Andorra, Bahrain, Bulgaria, Croatia, Cyprus, Czech Republic, Estonia, Greece, Greenland, Guernsey, Hungary, Iceland, India, Isle of Man, Israel, Jersey, Kuwait, Latvia, Liechtenstein, Lithuania, Malta, Monaco, Poland, Qatar, Romania, Russia, Saudi Arabia, Slovakia and Slovenia will be able to directly buy the devices starting Friday, September 29.









DON'T MISS THESE!