Apple iPhone 8 and 8 Plus price and release date
31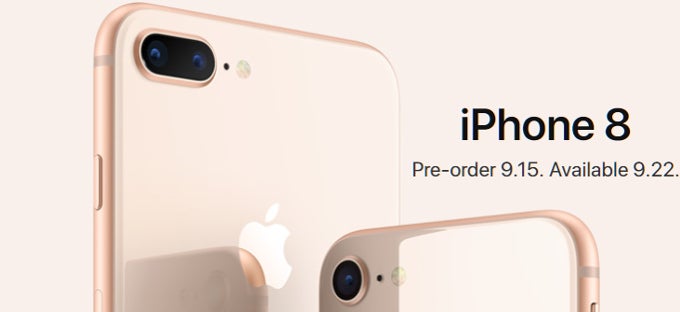 If you can't stomach the lack of home button, and the $999 starting tag of the newly-revealed
iPhone X
leap of faith by Apple, the team from Cupertino has you covered with two more orthodox iPhones - the
8
and
8 Plus
- which are the true successors of the 7 and
7 Plus
that were unveiled around the same time last year. True to form, they are not only under-the-hood upgrades, but also with exterior changes in the form of glass, instead of metal chassis, aimed to let their newly-gained wireless charging feature pass through.


Release dates
That's not all there is to it in terms of novelties, though, as the 8 and 8 Plus sport faster chipsets and improved cameras, so if you are in the market for a new iPhone, they are certainly worth examining as an option. Moreover, their starting prices, as you can see above, are pretty palatable, and more in line with Apple's usual tags for a new iPhone. You can start ordering the iPhone 8 and 8 Plus on
September 15
, with a release to follow shortly on
September 22
in the following countries:
Australia, Austria, Belgium, Canada, China, Denmark, Finland, France, Germany, Hong Kong, Ireland, Italy, Japan, Luxembourg, Mexico, Netherlands, New Zealand, Norway, Portugal, Puerto Rico, Singapore, Spain, Sweden, Switzerland, Taiwan, UAE, the UK, the US and US Virgin Islands.
A week later, on
Friday, September 29th
, there will be a release in the next batch of countries, as usual:
Andorra, Bahrain, Bulgaria, Croatia, Cyprus, Czech Republic, Estonia, Greece, Greenland, Guernsey, Hungary, Iceland, India, Isle of Man, Israel, Jersey, Kuwait, Latvia, Liechtenstein, Lithuania, Malta, Monaco, Poland, Qatar, Romania, Russia, Saudi Arabia, Slovakia and Slovenia.
Prices
| | Sprint | Verizon | AT&T | T-Mobile |
| --- | --- | --- | --- | --- |
| Apple iPhone 8 64 GB | $699 or $34.50/mo. | $699 or $34.50/mo. | $699 or $23.34/mo. for 30 months | $699 or $34.50/mo. |
| Apple iPhone 8 256 GB | $849 or $40.75/mo. | $849 or $40.75/mo. | $849 or $40.75/mo. | $849 or $40.75/mo. |
| Apple iPhone 8 Plus 64 GB | $799 or $39.50/mo. | $799 or $39.50/mo. | $799 or $26.67/mo. for 30 months | $799 or $39.50/mo. |
| Apple iPhone 8 Plus 256 GB | $949 or $45.75/mo | $949 or $45.75/mo | $949 or $45.75/mo | $949 or $45.75/mo |
Big Red is giving up to $300 trade-in offer for your older handset towards the purchase of the new iPhones. Not extremely generous, given that the three Benjamins go towards handsets like the
iPhone 7
, the Pixel or Galaxy S8, while an iPhone 6 will net you just $200, but upgrade convenience at America's
most congested
widest network has a price. Alternatively, you can
look at other ways
to sell your handset on eBay or Craigslist, which will fetch you much better prices, but with more hassle.



The boys in blue actually outed a BOGO offer on the new iPhone 8 and 8 Plus, believe it or not, but only for DirecTV or U-Verse customers, current and future. They can get a second iPhone for free, but you have to obtain the handsets through AT&T's leasing program and keep your service for the two-year contract on both phones.
For other AT&T subs, there is no immediate trade-in offer for the new iPhone other than the standard one which will fetch you about the same $300 for an iPhone 7 Plus swap as on Verizon, but AT&T does have the Next installment plan that lets you pay off for 30 months. The iPhone 8, for instance, will run you $23 a month this way, while the iPhone 8 Plus will be just $27. Needless to say, this requires good credit so that no money is given upfront, and you are still on the hook for activation fee and sales tax.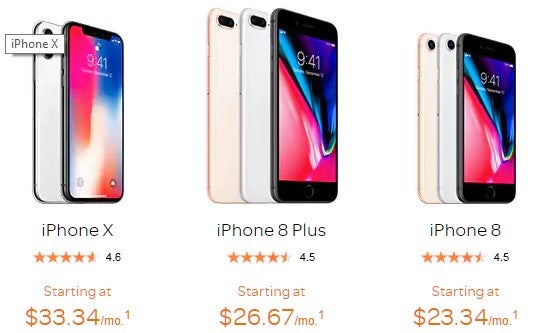 Just like with the iPhone 7, T-Mobile didn't hesitate to pull the trigger, introducing a $300 discount for the new iPhone 8, 8 Plus and X phones, as long as you trade in at least an iPhone 6 in good condition. For comparison, AT&T's trade-in offer for a 32 GB iPhone 7 is sub-$300 at the moment, while an iPhone 6 trade-in at Verizon brings $200 towards the purchase of the new iPhones.
Next up is an upgrade offer similar to its JUMP program that will make potential buyers grin with delight. T-Mobile will is introducing a fresh iPhone upgrade program, in time for the iPhone 8, 8 Plus and the X. When you hit 50% of their price on T-Mobile's installment plans, you can trade them in, and upgrade to the next iPhone for free, as the carrier will wipe the remaining balance, essentially locking you into yearly upgrades, instead of having to pay the phone for two years, or cover what's left.

Sprint has finally spilled the beans on its special trade-in or promo offers towards the new iPhones, and they are no better than the rest of the gang. It's open to every sub, but you have to trade in at least an iPhone 6 to qualify. Sprint will then discount half of your Sprint Flex lease payment, so you'll end up saving $14.59/month for 18 months, or about $260. For newer phones traded in, you might actually lose out, while it might be worth it if you want to upgrade from older devices.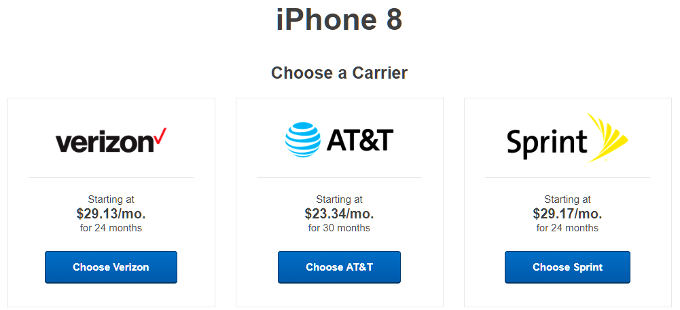 Best Buy carries the Verizon, AT&T and Sprint deals, and that's that. T-Mobile is traditionally not present in its roster, and the retailer doesn't have any special promos that go towards subsidizing your iPhone 8 or 8 Plus purchase.
Target gives REDcard holders $120 in eGiftCard credits over the 24-month installment payments period, and you can, say, trade an iPhone 6 for $200 towards the purchase of an iPhone 8 or 8 Plus. Given that T-Mobile gives you $300 for the same, and the offer is not stackable, Target's effort sits in the middle of iPhone 8 preorder deals.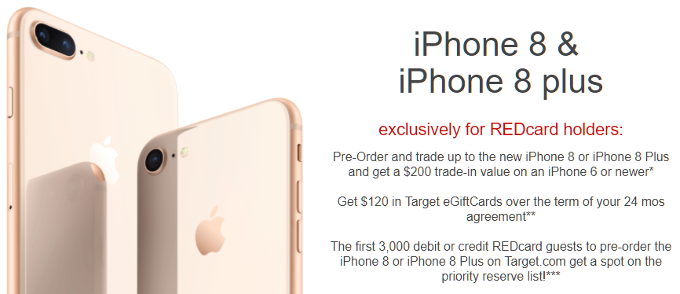 Since Walmart or Costco don't have any special deals on an iPhone 8 preorder, the best deal for now remain AT&T's BOGO offer for DirecTV and U-verse subs, as well as T-Mobile's generous trade-in and iPhone upgrade program. Any takers?
Europe, Asia, the Americas and Australia
The iPhone pricing abroad is pretty horrible compared to the US versions, on account of various import duties and taxes levied on Apple there. Europe is especially hard hit with its twenty percent or so customs duty on consumer electronics from abroad, and it's traditionally Italy and Norway that carry the highest iPhone prices there. That is why an iPhone 8 64 GB will cost 40% more in Italy than in the US, but countries like Russia or Norway aren't far behind, either in abominable pricing, either.