Apple topped Samsung in plan-based smartphone sales at Best Buy last quarter
14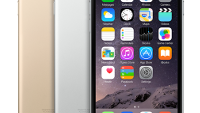 The top three smartphones sold with a plan at Best Buy during the second quarter, were all Space Gray colored versions of the
Apple iPhone 6
. According to JeeQ Data, the 16GB and 64GB models from Verizon made 88 and 81 appearances on the Top Ten best selling list. Right behind them was the 64GB AT&T Space Gray iPhone 6. The first non iPhone 6 on the list, with 69 mentions in the Top Ten, was the Black Sapphire 32GB
Samsung Galaxy S6
for Verizon.
During the second quarter, Apple beat Samsung for market share among smartphones sold (with plans) at the big box retailer. Apple garnered 54% of such sales while Samsung took 45%. That left crumbs for LG (1%) and HTC (<1%). Apple outsold Samsung in April and June while Sammy did manage to beat out its rival in May. But Apple seemed to fight off the launch of the Samsung Galaxy S6 and
Samsung Galaxy 6 edge
, which took place in April.
Verizon accounted for 55% of the plan-based smartphones sold by Best Buy during the three month period. Perhaps surprisingly, Sprint finished second with 25% which topped the 20% snagged by AT&T. Verizon went from strength to strength in the quarter, and closed out the period with a strong month of June.
Space Gray was the most popular color and 16GB phones led the way with a 47% share. One-third of the phones purchased with a plan at Best Buy last quarter, came with 32GB of native memory. Only 20% had 64GB of storage. At Best Buy, it would appear that a lower price was more important than additional storage. Of the three phones that dominated the Top Ten charts, the iPhone 6 and Galaxy S6/Galaxy S6 edge do not offer a microSD slot. There is such a feature on the
Samsung Galaxy S5.
Thanks, Kevin!
source:
JeeQ Data