Apple shares plunge on poor Chinese Apple iPhone 5 reception
74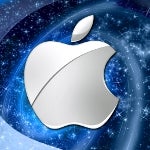 Shares of Apple moved closer to the important
$500 level
on Friday, as the shares dropped over 3% in reaction to a chilly reception given in China to the launch there of the
Apple iPhone 5
. Technical Analysts, who pour over stock charts to determine a stock's future movement, have been bearish on the stock since it penetrated both the 50 and 200 day moving averages. Now, these guys are pointing to the $500 level where Apple snapped back from its last drop, and suggest that a close under $500 could set off a powerful wave of new selling.
What has investors so worried today is the lack of long lines waiting outside Apple's seven retail stores in
Beijing
,
Shanghai
and
Shenzhen
. This is a sharp contrast to the
long lines and fights that broke out in January
when Apple launched the
Apple iPhone 4S
in the country. A delay in opening one of the Apple Stores led those waiting in line to turn violent, tossing eggs at police and breaking windows. Apple halted sales of the Apple iPhone 4S in its stores in response.
4 inches
from the previous models' 3.5 inch display was not enough to bring in buyers for the phone. Wang Yanhui, secretary general of the China Mobile Phone Alliance said, "
The iPhone 5 is undeniably a good product. However, among the high-end smartphone category, it has a smaller screen and few bright spots, but has a high price
." A woman inside an Apple Store in Beijing said "
The iPhone 5 boosts no big innovations and is not very different from the iPhone 4s. I might wait for the next model
."
The World's largest carrier, China Mobile, is unable to connect to the Apple iPhone because of its' proprietary 3G network. The carrier did recently
make a deal with Nokia to offer customers the Windows Phone 8 powered Nokia Lumia 920T
which has a 4.5 inch display.
source:
WMPoweruser