Apple's shares slide on analyst downgrade that the iPhone is now 'facing the reality'
32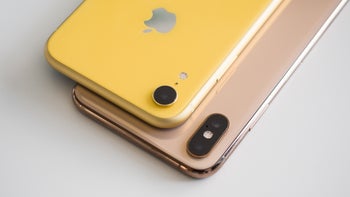 HSBC analysts have changed their Apple stock recommendation to "hold" from "buy," reports
CNBC
, sending Apple's stock in another tailspin. Prior to the cut, the shares had lost about 18% of their value for this quarter alone, and added a further 1.7% decline after the downgrade. HSBC revised its stock price target down to $200, and issued the following memo to their clients:
Apple's iconic hardware unit growth is broadly over for now. Revenues are only supported by higher selling prices and by the development of services. Flat unit growth has hit Apple's share price and incidentally its key suppliers. What has made the success of Apple, a concentrated portfolio of highly desirable (and pricy) products is now facing the reality of market saturation.
People may simply be sniffing at the new iPhones which are a huge departure from their predecessors in terms of size and design. Apple may also not be immune to the larger phone market's saturation, as people are holding onto their perfectly good handsets for longer.
It is combating the slump with higher prices to keep revenue in check but that could be leaning on potential demand as people are hitting the threshold of what they would pay for a new handset, be it with Apple's logo on the back.
Faced with softer sales than analysts expected, Apple is introducing stealth iPhone promos that aren't very typical for the company. It all began in October when approximately a month had passed into the
iPhone XS
and
XS Max
sales, and right before the
iPhone XR
was scheduled to be released to carriers and stores.
Apple apparently moved some of the marketing team around, according to insiders who spoke to
Bloomberg
, tasking them with overcoming what already appeared to be tepid sales compared to the expectations. The mid-flight marketing strategy change was assembled in a "fire drill" manner, as Apple's tactic to release the XR later than the more expensive XS and XS Max was seemingly backfiring. Apple, however, couldn't be sure if this is because people were holding out for the XR, or simply the upgrade demand for newer iPhones has been overestimated, so they took no chances and changed marketing tack.
The result? A few iPhone promos and discounts in all but a name that isn't at all what we are accustomed to seeing from Apple since carrier subsidies went bust. The most notable one is the temporary
raising of trade-in prices for older iPhones
, netting you $200 for an iPhone 6s instead of $100.
Not only that but if you now go to Apple.com, you will see one very unusual banner that says you can get the iPhone XR "from $449," with an asterisk denoting that this is a trade-in offer.

We shouldn't make a mountain out of a molehill, as this same banner is
only on Apple's America website
, not in Europe, or, say, Japan (we checked), but it is a pretty loud confirmation of Apple's aforementioned new marketing approach towards iPhone sales.
In addition, yesterday the phone maker launched a dedicated section on its website where it offers its products at a
discount for active duty military and veterans
, starting the iPhone 7 from $404. We'll see if the "limited time" trade-in offer is only meant or boosting the all-important holiday sales, or will become a more permanent fixture for clearing up inventory.