Apple's new active military and veteran discounts price the iPhone from $404
10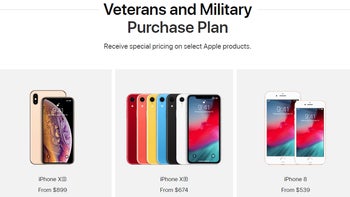 Apple has launched a new program for active military and veterans' discount in a
dedicated section of its website
. Different from Apple's educational discounts, it still offers 10% off plenty of new gadgets, including iPhones.
The handsets, for instance, start from just $404 for a brand new
iPhone 7
, and the new
iPhone XR
can be had for $674 instead of $749. Needless to say, the largest
XS Max
has the largest absolute discount, bringing it down to a sub-$1000 price which is unattainable for members of the general public.
You have to be an active duty member of the US military or a vet to take advantage and Apple warns you as much before you enter its dedicated store. After that, however, a few clicks will get your shiny yellow iPhone XR delivered to your door in no time at 10% off the sticker price.
Recommended Stories