Apple seeks U.S. ban on Samsung GALAXY Tab 10.1; tablet could be pulled from stores next month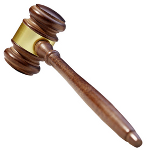 Apple recently won a ruling from the U.S. Court of Appeals for the Federal Circuit, finding that
Apple's design-related patent on the Apple iPad is valid
. That overturned the ruling made by a California court that prevented Apple from seeking an injunction against the Samsung GALAXY Tab 10.1. With the ruling from the Appeals court in its pocket, late Friday Apple filed a
motion
seeking an injunction on the Samsung tablet which could result in the
device getting pulled from stores as soon as next month
.
FOSS Patent's
Florian Mueller said that Apple's injunction motion has a great chance in succeeding considering that one Circuit Court Judge believes that a ban is warranted by the evidence presented by Apple and even issued a dissenting opinion saying that simply tossing the original verdict in the California was not enough relief for the Cupertino based manufacturer, and that Apple deserved more.
"Circuit Judge Kathleen O'Malley argued that the CAFC should have reversed the decision in order to provided Apple with immediate injunctive relief in light of the irreparable harm it is suffering. But the majority of the judges saw 'no reason to believe that there will necessarily be delay, or if there is delay that it will be unjustifiable."-Florian Mueller
This is the second time that Apple is seeking an injunction in the U.S. on the Samsung GALAXY Tab 10.1.
Judge Lucy Koh denied the first request along with a request to ban the Samsung Galaxy S 4G and the Samsung Infuse 4G
, and now is being asked by Apple to make a ruling on the injunction without a hearing. Since the Judge already heard arguments about the same issue in October, this is not an unusual request. Considering that the CEO's of both Apple and Samsung (Tim Cook and Gee-Sung Choi, respectively)
are expected to try to sit down and discuss a settlement on both May 21st and 22nd
, Apple has
given its rival and parts supplier until May 25th to respond
to the motion.
it could lead to a redesign of the tablet
. That is what Samsung did in Germany when an injunction was issued against the Samsung GALAXY Tab 10.1 in the country which forced Samsung to
re-issue the tablet as the Samsung GALAXY Tab 10.1N
. Considering that
Samsung has already launched the Samsung Galaxy Tab 2 (10.1)
, it might all be a moot point anyway.
source:
FOSSPatents