Apple says the adoption rate of iOS 8 stands at 46% five days after its release
53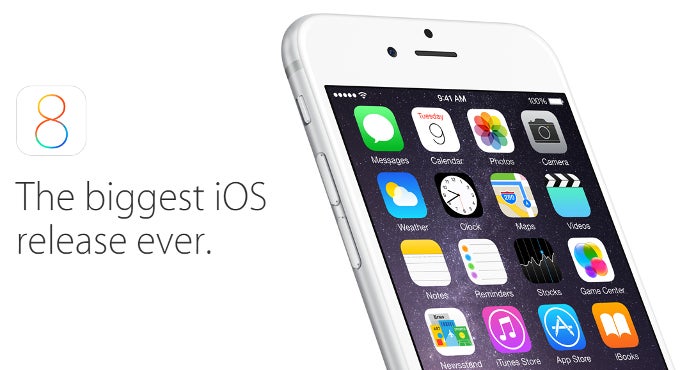 If you've longed to download and tinker with iOS 8 ever since it got unveiled this June, then
September 17
has probably been one of your more notable days from the already-past summer. It was then when Apple unleashed the latest rendition of its mobile OS, iOS 8, which brought few differences in the visual department, but a plethora of useful features and under-the-hood improvements over iOS 7. And thanks to the lack of fragmentation, the newest version of iOS usually finds its way to the compatible Apple devices in no time.
iOS 8 is no exception from this unwritten rule. Apple revealed that just after five days of being available for download, the latest version of the mobile operating system can be found on more than 46% of the compatible Apple devices. Meanwhile, the older iOS 7 is still slightly ahead with 49%, but this will surely change rather soon. The remainder of 5% of Apple devices are still running previous iOS iterations. Interestingly enough, just prior to iOS 8's immediate release, iOS 7 apparently ran on 90% of all Apple devices.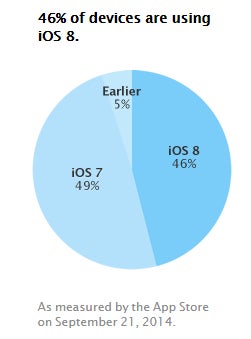 As a side comparison, the latest pieces of data from Google reveal that the latest version of its Android OS, Android 4.4.x KitKat, can be
found running on 24.5% of all Android devices
. The reason for this stark, yet logical contrast is, once again, the aforementioned fragmentation.
Numerous sources claim that iOS 8 is basking in a slower adoption rate compared to iOS 7 a year ago. It is even speculated that the adoption rate of iOS 7 for the first 24 hours after its release was twice as high in comparison with the one of iOS 8. There are several reasons behind this alleged slow start, one of which is the large amount of storage space required by the update itself.
Don't forget to check out
our review of iOS 8
and the
comparison we made between it and the predecessor, iOS 7
!
source:
Apple
via
TechCrunch