iOS 8 release date and time: Available now!
48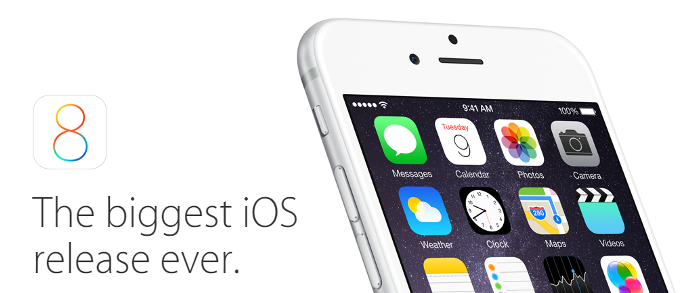 UPDATE
: iOS 8 is now available!
Head this way
to see how you can download and install it on your iPhone, iPad, or iPod touch!
September 17 is fast-approaching, and you all know what that means - that's the day when Apple has promised to release iOS 8 to the general public! The latest and greatest iOS iteration has been available as a beta version (for developers or 'adventurous' users) for quite some time, but only now will the finished platform be pushed to the iPhones and iPads of regular consumers around the world.
So, just to make it extra clear - the
iOS 8 release date is September 17
. That's when users can expect the new platform to arrive on their iDevices. As for the iOS 8 release time, Apple usually doesn't reveal specific release timing for its software updates, but we can make an educated guess, based on previous experiences. When launching the previous versions of iOS, Apple usually started
pushing the update relatively early in the day for users on the west coast
- at around 10 AM Pacific time. With a three-hour difference between Pacific and Eastern time, this means that users on the east coast will probably get iOS 8 sometime around noon. Travelling further to the east, it'll be somewhere around the evening of Sep 17, when users in Europe will be notified about the available update. Naturally, if that approximate iOS 8 release time goes according to our expectations, it'll be in the small hours of September 18, when users in Far East countries like Japan and China receive the new update.
iOS 8 release date is September 17. Release time is expected to be around 10 AM Pacific time.
As usual, iOS 8 will be available as an over-the-air (OTA) update, or through the desktop iTunes application. If you'll be going for the latter option, be sure to update the iTunes program to the latest version first. Additionally, regardless of which update method you choose, it'll be a good idea to make sure that your iPhone, iPad, or iPod touch has enough battery (over 80% should do) when the update starts knocking on the door. If your battery level is too low, the update process will refuse to commence.
Speaking of iPhone, iPads and iPod touches, now's a good time to mention that iOS 8 will be compatible with a plethora of models.
Here are all the models that will receive the iOS 8 update:
iPhone 4s, iPhone 5, iPhone 5c, iPhone 5s | iPad 2, iPad 3, iPad 4, iPad Air, iPad mini, iPad mini with Retina Display | iPod touch (5th gen).
Approximate US release times:
| | | | |
| --- | --- | --- | --- |
| Pacific | Mountain | Central | Eastern |
| 10 AM | 11 AM | 12 PM | 1 PM |
Approximate European release times:
| | | | |
| --- | --- | --- | --- |
| GMT | British | Central European | Eastern European |
| 5 PM | 6 PM | 7 PM | 8 PM |
Approximate Asian release times:
| | | | |
| --- | --- | --- | --- |
| Hong Kong | China | Korea | Japan |
| 1 AM (Sep 18) | 1 AM (Sep 18) | 2 AM (Sep 18) | 2 AM (Sep 18) |
Now that we know when to expect the iOS 8 update, it's time to take another look at what we can expect out of the update package. In other words, this is a good time to go through all the new features and improvements that iOS 8 is going to bring. Without further ado, let's get down to it - simply browse through the following gallery to learn more about the new iOS 8 features!