Apple says U.S. Founding Fathers would be upset with DOJ request to unlock Farook's iPhone
28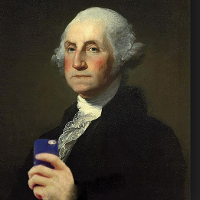 Apple and the government will be facing off next Tuesday in court. This will be the big hearing heard around the world as the DOJ asks the court to force Apple to develop the so-called Govt.OS operating system. The unique software is required to unlock the
Apple iPhone 5c
used by deceased terrorist Syed Farook. Apple's stance is that if it is forced to build such an OS, the code would no doubt end up in the wrong hands. All of the private data stored on iPhones around the world would be in danger of getting stolen by hackers.
In its final brief filed with the court before next week's hearing, Apple pointed out that Congress had specifically declined to give the DOJ (through legislation), the power to compel Apple to help law enforcement in these situations. Apple says that the intent of Congress was clear when it considered legislation, and then declined to follow through.
In its filing, Apple says that the Founding Fathers of the U.S. (usually referring to the Super Seven of John Adams, Benjamin Franklin, Alexander Hamilton, John Jay, Thomas Jefferson, James Madison, and George Washington) would be appalled to discover that the U.S. government believes that courts can force private parties to do anything the government wants them to do.
Last week,
the government threatened to force Apple to turn over the iOS source code
, which would allow the government to break into any iPhone in use. Apple's responded by saying that the government cannot understand the technology involved in this case if it makes a statement like that with "catastrophic security implications."
The DOJ believes that the iPhone 5c in question
could contain the name(s) of possible conspirators who helped Farook and his wife murder 14 people
in a San Benardino office building on December 2nd. The pair were cut down by a hail of police bullets on a San Bernardino street hours later.
Even though the court will hear arguments from both sides next week, the final ruling could be many weeks away and will have ramifications for many of our loyal readers.
"As we have said in our filings, the Constitution and the three branches of the federal government should be entrusted to strike the balance between each citizen's right to privacy and all citizens' right to safety and justice. The Constitution and the laws of the United States do not vest that power in a single corporation.-Emily Pierce, spokeswoman, Justice Department

"Although silence is sometimes a weak indicator of intent, it is a different story when Congress actively considers legislation to address a major policy issue, yet deliberately declines to enact it."-Apple's court filing
source:
Reuters