Prosecutor says Farook's Apple iPhone 5c could contain name of mystery third assailant
40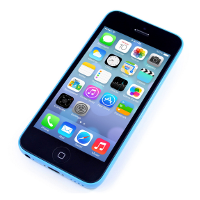 On December 2nd, when Syed Farook and his wife, Tashfeen Malik, murdered 14 office workers in a San Bernardino office building, initial reports from eye witnesses seemed to indicate that there were three shooters involved. When police cut down the two terrorists in a hail of bullets hours later, there was a methodical search for a third person in the vicinity, but one was never found.
Yesterday, San Bernardino Police Chief Jarrod Burguan said that his agency hasn't been able to completely eliminate the possibility of a third shooter. The county's DA has filed papers with the court saying that the now infamous
Apple iPhone 5c
used by Farook, could contain the name of a third shooter. In a brief filed on Thursday in federal court, San Bernardino County District Attorney Michael Ramos mentioned a pair of 911 calls during which the callers reported that three people were involved in the attack.
While that sounds credible, the DA went so far as to claim that Farook's iPhone may be at the heart of a "lying-dormant cyber pathogen" that lies in wait, the clock ticking toward the ultimate destruction of San Bernardino's computer network. While that sounds far-fetched, it is up to the DA to try to convince the judge to force Apple to open the phone. Even the police chief admits that he hasn't heard anything about a booby-trap placed on the phone.
The government is trying to get Apple to write the special version of iOS that would be required for Apple to unlock the phone, which was given to Farook for his job with the San Bernardino Department of Health.
Apple is not complying with a court order requiring it to unlock the handset
and turn the information over to the feds. Apple CEO Tim Cook says that if such software ends up in the wrong hands, iPhone users around the world will be in danger of having the personal information stored on their phone, stolen by hackers.
source:
NYPost