Apple releases iOS 10.0.2 for one and all
18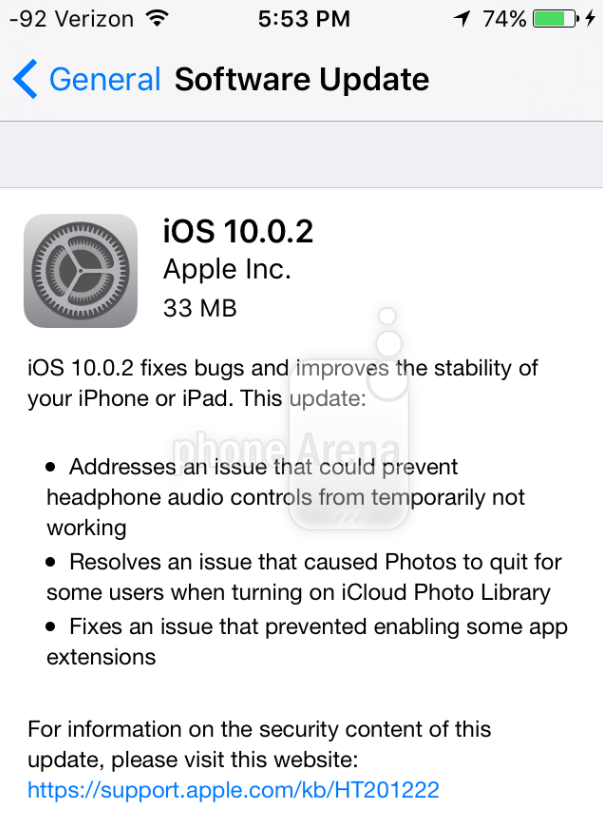 Apple iOS 10.0.2 is released
Apple has released iOS 10.0.2, the second software update for iOS 10. To find the update go to
Settings
>
General
>
Software Update
. The update weighs in at 33MB and takes care of a few items such as
Addressing an issue that could prevent headphone audio controls from temporarily not working.
Resolving an issue that caused Photos to quit for some users when turning on iCloud Photo Library.
Fixing an issue that prevented enabling some app extensions.
Speaking of issues, Apple is hoping that there aren't anymore like the one that effectively bricked some iDevices that were in the process of downloading and installing the new iOS 10 build. Additionally, T-Mobile had to tell its customers with the Apple iPhone 6, Apple iPhone 6 Plus and Apple iPhone SEnot to install iOS 10 untill Apple sent out a software fix, which it did the very next day.
Today, Apple is also supposed to make the iOS 10.1 beta available to the public. Developers received access earlier in the week to this beta build which includes Portrait Camera mode for the Apple iPhone 7 Plus. This allows iPhone 7 Plus owners to take advantage of the second camera on the back of the phone, by allowing them to add a blur effect on the background of portraits shot with the device.