Apple's new patent is for a wearable device that might control your next iPhone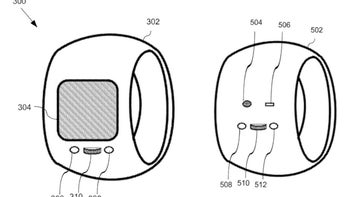 The title of the patent says it all, "
Devices, methods, and user interfaces for a wearable electronic ring computing device
." The technology covered by the patent relates to a finger ring with a touchscreen that includes a processor, a rechargeable source of power and a wireless transceiver. With the ring worn on one finger, a finger tap, voice command or hand gesture can be used to control the action on another device like an iPhone or an iPad. In other words, the Apple Ring would not be a standalone product.
The Apple Ring would be a more discreet, efficient and safer way to interact with a touchscreen device

Why use an Apple Ring to control another device? As Apple states in the patent, current touchscreen devices could be "cumbersome, inconvenient, or inefficient for certain tasks and applications." As an example, Apple says that after holding an iPhone or iPad for some time, the user's hands and/or arms could get fatigued. In addition, the light given off by a touchscreen device could be "inappropriate in certain social environments or even dangerous if it gives away the position of a threatened user." Apple believes that the use of such a ring as laid out in the patent would be a more efficient, safer, discreet and ergonomic way for consumers to interact with a touchscreen device.
Amazon recently introduced the Echo Loop, a smart ring that includes virtual assistant Alexa. The ring provides most of the same functionality of a smart speaker, but one that is wrapped around your finger. You can even open the Alexa app and set a phone number to be called with a double click of the action button. The Echo Loop pairs with the user's smartphone for connectivity. Similar to what Apple wrote on its patent, the Echo Loop is sized to be worn on the user's first index finger on either hand. Amazon is offering the Echo Loop through invitation and it is priced at $129.99. After a limited time, pricing will rise to $179.99.
The upcoming Apple Glasses would seem to be a perfect device for users to control with an Apple Ring. While users might activate certain features on the headset by tapping on a pad on the side of the glasses, a ring placed on the wearer's finger might be easier to use.
The new patent is number US 10,444,834 B2 and was originally filed on April 1, 2012. If Apple plans on using such a product as an accessory for the Apple Glasses, we could see the ring unveiled as soon as the first quarter of 2020. If the Apple Ring is expected to be used primarily to control the iPhone, the ring might not see the light of day until next September. Either way, as Apple learned from its experiences with the Apple Watch, there would be absolutely no reason to position such a wearable device as a piece of jewelry. The company tried this approach when it first launched its smartwatch and found that consumers thought of the timepiece as a tech device, not as a piece of jewelry.