Apple raises the cost of certain out of warranty iPhone screen repairs by $20
19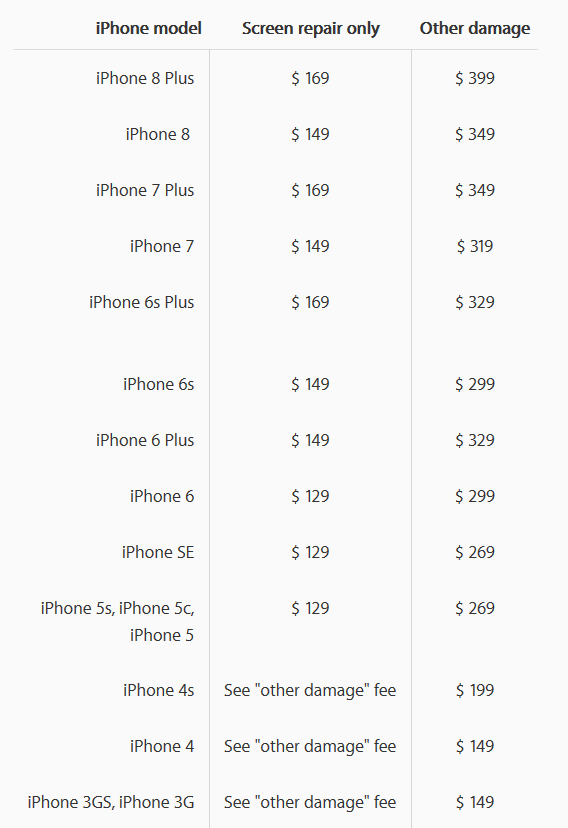 Current prices for out of warranty repairs for iPhone models
According to Apple's service pricing page, the company has raised the cost to repair the screen on certain models of the iPhone. For example, the price to repair a broken display on the
Apple iPhone 6s
, and
Apple iPhone 7
has increased to $149 from the previous $129. Screen repairs for the
Apple iPhone 6s Plus
and
Apple iPhone 7 Plus
have increased in price from $149 to $169. Screen repairs for the new
Apple iPhone 8
and
Apple iPhone 8 Plus
will also be priced at $149 and $169 respectively.
On the other hand, those requiring a screen repair pay only $29 if they are a subscriber to AppleCare+. The cost of AppleCare+ for the iPhone 6s, iPhone 7 and iPhone 8 is $129 for two years. For the iPhone 6s Plus, iPhone 7 Plus and iPhone 8 Plus, the cost for two years of Apple Care+ is $149. If you're interested in buying two years of warranty extension for the
iPhone X
, it will cost you $199.
Besides covering screen repairs for $29, AppleCare+ will cover any other damage for just $99. And battery replacements are free on AppleCare+ (as opposed to $79 out of warranty). Many of you might consider it a waste of money, but if you are the type that is constantly dropping his/her iPhone, it probably would be money well spent.
source:
Apple
via
Engadget