Apple putting on a show for the FTC?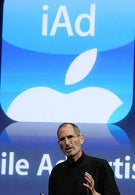 Despite well publicized changes in its rules to developers, Apple has continued to accept apps loaded with third party ads by Google's AdSense and AdMob. Apple will not comment on the situation, but the company did debut its iAd platform on Thursday, as we
reported
, and has presales of $60 million. That money is divided up with 60% going to developers and 40% going to Apple. The Cupertino based company had revised section 3.3.9 of its developer agreement to state, "You and Your Applications may not collect, use, or disclose to any third party, user or device data without prior user consent," and that while data can be delivered to an independent third party, that third party must be "...an independent advertising service provider whose primary business is serving mobile ads." However, with Apple giving the green light to recent titles like Glu Mobile's Super KO Boxing II (which has AdMob ad placing) and Elements of Design's Spawn Glow (which features AdSense placements), it would appear that the revised developer agreement is not being followed. The founder of Elements of Design, Nikolai Sander, says that Apple "is not enacting the restriction." As for the reason why, some feel that Apple is trying to look good while the FTC investigates iAd to see if the service unlawfully excludes other ad firms from collecting data from throughout the iPhone platform.
source:
WSJ
via
FierceMobile