Pricing and fierce competition has Apple's market share declining in Asia
35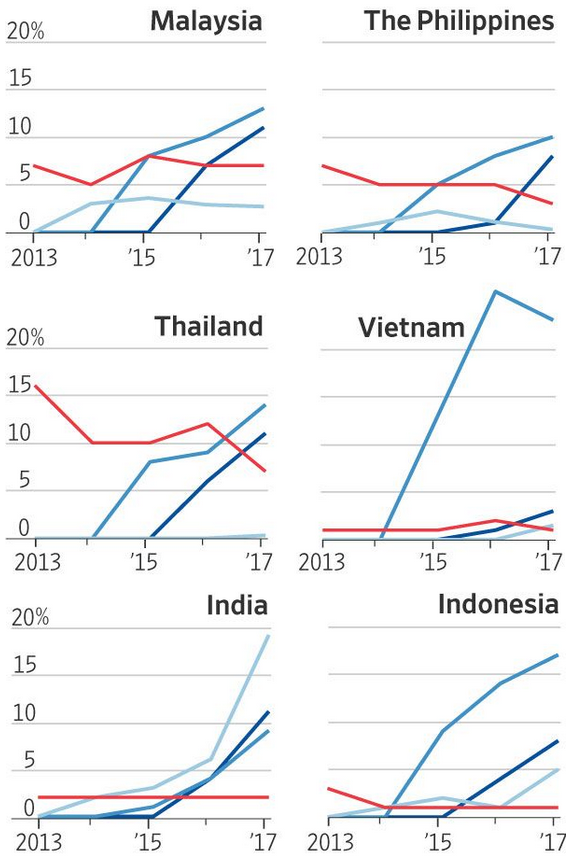 Apple is showing no growth or declining growth in Asian markets
Apple is having a problem in Asia as the iPhone's market share in that region has not been growing in some countries; even worse, it is declining in others. Competition from Chinese handset manufacturers has been brutal as companies like Xiaomi, Vivo and Oppo have been able to attract consumers by offering high-end units at lower prices. And by including some features not found on the iPhone, such as enhanced front-facing selfie cameras and larger capacity batteries, these companies are taking sales away from Apple.
In India and Indonesia, the average smartphone sells for $200, which means that most consumers in those countries have to look at other options instead of buying the iPhone. The only iOS flavored handset that is close to that price tag is the
Apple iPhone SE
, the 2016 4-incher that is actually being produced in India. Earlier this year, there was talk about Apple offering a sequel called the
iPhone SE 2
. The newer version is rumored to keep the 4-inch LCD screen, but is said to have an Apple A10 Fusion chipset under the hood, and support wireless charging.
Apple's market share has dropped in China from 13% of the smartphone market in 2013, to 8% now. In India, the world's second largest smartphone market after China, Apple owns 2% which leaves plenty of room for improvement. However, considering that it is pricing holding back Apple in that country, it is hard to see how the company will be able to compete with the lower priced Chinese manufacturers. One 28-year-old graphic designer in the country, Abhay Shahi, swapped his
iPhone 6
for a brand new
Xiaomi Redmi Note 4
for roughly $200. Calling the iPhone "overpriced," he notes that his new phone "has a fingerprint sensor, the camera is pretty good, and there's no lag." Xiaomi has hit a grand slam in India, where its market share has soared from 3% in 2015 to 19% last year.
While Xiaomi pushed hard in India over the last couple of years, Oppo and Vivo are now landscaping Indonesia and India with billboards showing off features on their handsets that are not found on an iPhone. For example, some of these phones have software that smooths out wrinkles so that self-portraits make the subject look younger. This is a feature not available to iPhone users.
source:
WSJ