Apple iPhone users can end their wallhugging days with the PWR case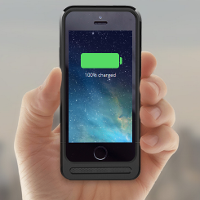 Earlier this year,
BlackBerry CEO John Chen referred to Apple iPhone users as "wallhuggers"
because of their propensity to hangout near wall outlets so that they can charge up their phones. A little more than four months later,
Samsung released a commercial that showed Apple iPhone users surrounding the outlets
inside a convention center. Even the bathroom outlets are fair game for iOS users, according to the ad.
Now, Apple iPhone users can make their wall hugging days a thing of the past, thanks to the PWR case. Just snap both parts of the case together, and you've got power. The $99.95 version of the case comes with a 1500mAh battery, which will bring your iPhone back from flatline to 80%. Pay just $20 more for a version of the case with a 1900mAh battery, and you can bring your iPhone all the way back to life. There is a PWR case designed for the
Apple iPhone 5
and
Apple iPhone 5s
, and another model made for the
Apple iPhone 4
and
Apple iPhone 4s
.
With the slide out prongs, you can make sure the rechargeable cell is 100% ready to go by sticking it in any outlet. And you can also use the prongs to charge up your phone just in case your power needs are extreme. The PWR case is available in black or in three color combinations. If you are looking to break your addiction to wall outlets, the PWR case can really help!
source:
Prong
via
Gizmodo