Apple and Samsung dominated premium smartphone sales during Q3
91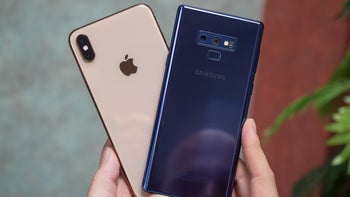 Samsung Galaxy Note 9 and Apple iPhone XS Max
In the third quarter of 2018, global smartphone shipments declined 5% according to data gathered by Counterpoint Research. But as revealed by their newest
report
, the premium segment actually grew considerably.
Throughout the months of July, August, and September, sales of smartphones valued at $400 or higher accounted for 22% of the global market. This represents an increase of 19% over the year prior. Of the total, Apple's iPhone accounted for almost half of all sales during the quarter. Samsung followed in a distant second with 22% and Huawei in third with 12% – this is the first time
Huawei
has hit a double-digits.
Dividing up the segment by price,
Samsung
dominated the $400-600 market with an impressive 25% share. Apple and Huawei, on the other hand, sat in second and third place with shares of 21% and 17% respectively. Vivo and Oppo completed the top 5 thanks to their popularity in China, while landing 6th place was Xiaomi with a market share of 6%.
Elsewhere in the premium segment, the $600-800 group was unsurprisingly dominated by Apple and Samsung once again with a combined share of 82%. However, only Apple was capable of maintaining its popularity in the $800+ segment. In fact, thanks to last year's
iPhone X
and the newer
iPhone XS and XS Max
, Apple's iPhone accounted for a whopping 79% of all sales in this section of the market.
Despite not being in the top five on a global scale, Counterpoint Research listed
OnePlus
as one of the fastest-growing brands in the $400-600 segment thanks to its popularity in India, China, and the UK.
Google
, on the other hand, also continued to grow its presence in the smartphone market during Q3 – it was one of the top 5 brands in both Western Europe and North America.
Recommended Stories