Analyst says Google's hardware will produce nearly $3 billion in profits for 2018
10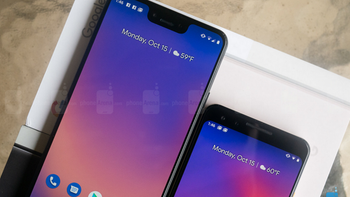 Most tech firms put hardware first, and then dabble in services or advertising to balance the ups and downs of device sales. But Google, the Alphabet subsidiary, does it the other way around. The company's Google search engine is an advertising juggernaut as are its apps like Google Maps and YouTube. But Google's devices have "gained critical success and are starting to gain material commercial traction," according to RBC Capital Markets analyst Mark Mahaney.
As noted by CNBC
, the analyst wrote a note to clients late last week that is bullish on Google's hardware.
Mahaney expects hardware to contribute nearly $8.8 billion in revenue for Google this year, or 6% of the company's gross revenue. That would be a 65% gain year-over-year. While Pixel sales are expected to lead the way this year, beating out sales of the Google Home line by a thin margin, that is expected to change by next year. For 2019, Mahaney sees the smart speaker and display products outselling Pixel devices by over $2 billion. Still, Pixel branded products will continue to lead the hardware division in gross profits through 2021, the analyst predicts.
Google's hardware division, which includes the Pixel brand (phones, tablets and laptops), the Nest line (smart home devices) and Home products (smart speakers and smart displays), will gross nearly $3 billion in profits this year according to Mahaney. That is based on a gross profit margin of 34%, but accounts for only 4% of the company's gross profits. The exact estimate calls for a gross profit of $2.982 billion, or a 55% increase over the 2017 figure. RBC sees the growth dropping off so that by the time 2021 rolls around, gross profit will be up only 16% from the previous year.
Because Google's hardware allows it to serve more ads to consumers, it is an important part of the company. Still, most brokerage firms, including RBC, know what brings home the bacon for Google investors. For example, Morgan Stanley analysts recently said that Google should give away the Home Mini smart speakers for free to increase the number of ads it serves to consumers.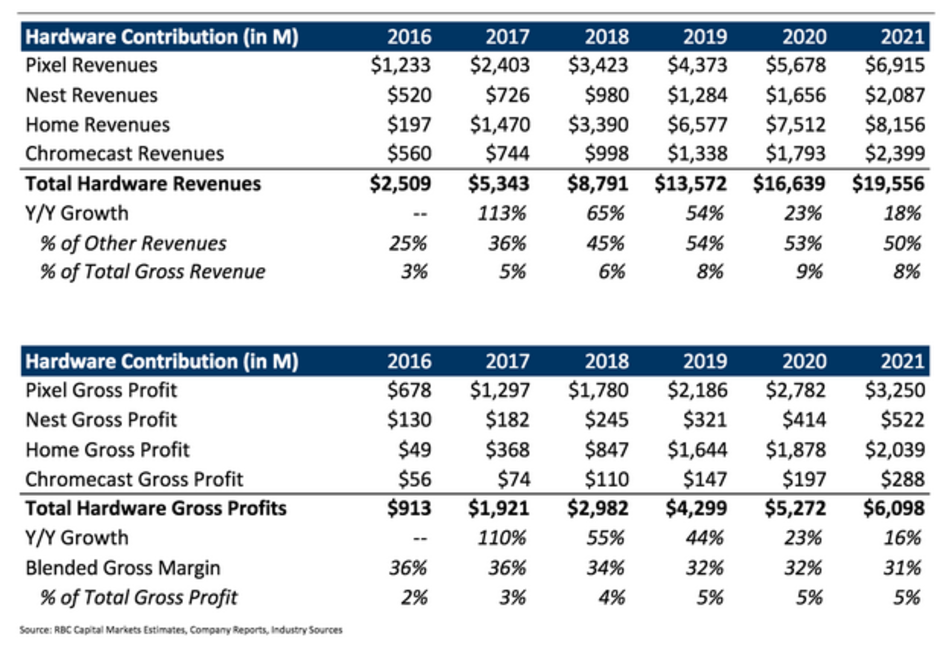 Financial projections for Google's hardware business from RBC Capital Markets analyst Mark Mahaney
Recommended Stories