Apple iPhone 6s squares off against the Samsung Galaxy S7 in a new drop test (VIDEO)
45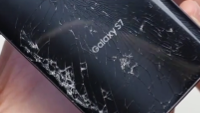 It's glass against metal as the
Samsung Galaxy S7
takes on the
Apple iPhone 6s
in the latest drop test produced by
PhoneBuff
and its professional drop testing machine. Each phone will be dropped from a meter high (3.3 feet) on its side, back, bottom and front. Any phone that can still technically make a phone call after the four rounds, advances to the bonus round
where it has a chance to win a brand new automobile!
.
The back test showed the strength of the metal build over glass as the iPhone 6s received some minor scuff marks. The Galaxy S7 on the other hand, was hit with some serious damage as the back glass cracked. Ironically, Apple is reportedly looking at using front and back glass for the 2017 iPhone. If Jony Ive reads this story, he might have second thoughts.
Both the iPhone 6s and Galaxy S7 survived the bottom drop like bosses with no damage seen by the naked eye. Both handsets sustained damage on the side drop, but nothing that would interfere with the operation of each phone. But it was the front drop, as usual, that did some major damage. The iPhone 6s screen was cracked, and the Galaxy S7 screen not only was spider webbed, it also went down for the count.
Since only the iPhone 6s was usable between the two devices, it had the privilege of participating in the bonus round. That means the phone was continuously dropped front first until it could no longer be used. You might recall that it
took 32 front-facing falls
for the
HTC 10
to stop working. After five drops, the iPhone 6s sailed into the sunset. Still, the iPhone 6s is declared the winner here as once again metal trumps glass.
Thanks for the tip!
source:
PhoneBuff