Apple iPhone 6 keeps its spot at the top of the Japanese charts
37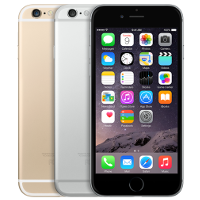 The 4.7-inch
Apple iPhone 6,
and the 5.5-inch
Apple iPhone 6 Plus,
have both been selling like hotcakes in Japan. This is based on BCN's website, tracking the sales of consumer devices in the country. The iPhone 6 is on top of its larger-screened brother, possibly due to a shortage of the iPhone 6 Plus in the country. As we told you earlier this week, the tech titan is believed to be
cutting production of the smaller model by 3 million to 4 million units
so that it can build more phablet sized iPhones.
In September, the Apple iPhone 6 monopolized the charts in Japan, taking seven of the top nine places. For the week of September 29th through October 5th, the handset had seven of the top eight places. As far as the Apple iPhone 6 is concerned, in Japan it is the 64GB model that gets the most demand. For all of September, and for the week ended October 5th, the 64GB iPhone 6 owned three of the top five spots.
So which of Japan's carriers have been doing the best job selling Apple's new models? It shouldn't be a surprise to see that SoftBank is ringing up the most iPhone 6 units in Japan. After all, it was the first carrier in the country to sell Apple's iconic smartphone, and it held an exclusive on the device for three years. It is the same reason why AT&T still dominates iPhone sales in the states.
For the week ending October 5th (latest data available), Japanese charts showed the Apple iPhone 6 (1-5, 7-8, 12, 16), the Apple iPhone 6 Plus (11, 17-19, 21), and the
Apple iPhone 5s
(6, 10, 14, 23) with an overwhelming majority of Japanese smartphone sales. The first (and only) non-iPhone model in the top ten was the Kyocera Digno, which held 9th place for that week.
source:
BCNRankings
(
translated
) via
Forbes