Apple shifts production to build more Apple iPhone 6 Plus units
56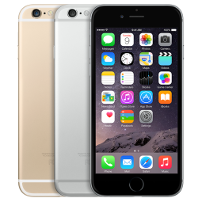 The
Apple iPhone 6 Plus
has been outsold by its smaller brother, the
Apple Phone 6
. Some of that might be due to the fact that many phone buyers can't handle such a large device. Some consumers just think that a phablet is too big to carry around. Additionally, Apple had originally skewed production in favor of the 4.7-inch iPhone 6. Toss in some production hiccups for the larger model, and you can see why it has been hard to find the largest iPhone ever to be mass produced. Last month, we told you that
initially,
the iPhone 6 Plus accounted for just 2% to 3% of iPhone models shipped to retailers
. Based on data from analytics firm Mixpanel, of the 21 million units of the new models estimated to have been sold,
17 million were the 4.7-inch iPhone 6
.
What makes the two phones different? Besides the larger size, the resolution on the 5.5-inch iPhone 6 Plus screen is a higher 1080 x 1920, as compared to the 750 x 1334 resolution on the 4.7-inch screen found on the iPhone 6. The 401ppi pixel density on the phablet beats out the 326ppi reading on the smaller device. And the rear camera on the phablet includes OIS, a feature missing from the rear-facing snapper on the iPhone 6. Additionally, battery tests show that
the cell on the larger model keeps the lights on a bit longer
.
On Apple's own website, it shows that new orders for the Apple iPhone 6 will ship in 7 to 10 business days. The Apple iPhone 6 Plus will ship in 3 to 4 weeks. But this might soon change. While Apple was surprised by the demand for the iPhone 6 Plus, it will shake up production according to sources from the upstream supply chain. These sources say that Apple will lower production of the 4.7-inch iPhone 6 by 3 million to 4 million units while raising production of the 5.5-inch iPhone 6 Plus.
But don't expect new shipments of the phablet to instantly appear on retailers' shelves. Component suppliers are said to be short of inventory for iPhone 6 Plus parts, and the factories don't have spare assembly lines to commit to the 5.5-inch model. Some consumers have given up on waiting for the phablet and have purchased the Apple iPhone 6 instead. Not only is this a compromise that might not sit well with the buyer, it also produces a lower profit margin for the company.
source:
DigiTimes