Apple iPhone 5s sales jump; analyst worries about what it means for Apple
75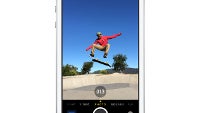 According to Societe Generale analyst Andy Perkins there is something strange and ominous about a sudden pick up in sales of the
Apple iPhone 5s
. The older iPhone model has jumped from contributing 10% of Apple's first quarter sales to counting for 20% of such sales in the current quarter. Perkins said that when an older model handset starts losing sales, it almost never rebounds, which makes this all the more interesting. The information is based on handset exports from contract manufacturers Hon Hai, and Pegatron. Both companies assemble iPhone units for Apple.
The analyst's concern stems from the $100 lower price of the iPhone 5s compared to the newer
Apple iPhone 6
. The older model is $200 cheaper than the
Apple iPhone 6 Plus
. He wonders if the excitement of the new larger screen sizes has already played out.
Perkins is also concerned that mostly everyone who wanted a larger screened iPhone will have bought one by the time the next iPhone model is released later this year. The analyst doesn't see Apple coming up with anything more enticing to buyers than the increase in screen sizes that set off a big surge in iPhone sales for the fourth quarter of 2014. For that three month period,
Apple sold a record 74.5 million units
.
The analyst doesn't even think that the Apple Watch, which in its current form needs to be paired with an iPhone 6 or iPhone 6 Plus, will boost iPhone sales. "
We do not believe that the Apple Watch will be a major game changer for Apple, at least over the next 12 months
," Perkins wrote. He also is worried about the rapidly rising dollar doing some damage to the average selling price of the iPhone, which surged as it usually does in the fourth quarter. He expects that the average price of Apple's smartphone dropped to $651 in the first quarter of this year from the 2014 fourth quarter's average price of $687.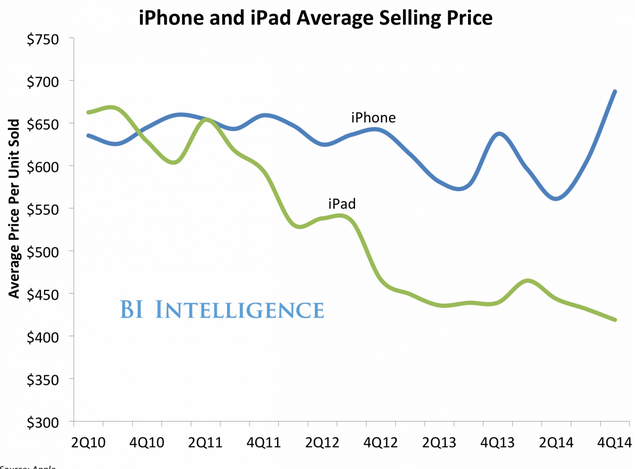 The average selling price of the Apple iPhone surged as usual during the fourth quarter
source:
BusinessInsider
Recommended Stories