Apple iPhone 5C leaks out and now it's more than just a plastic shell
30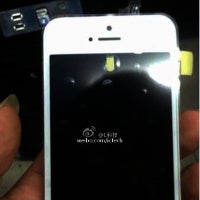 The Apple iPhone 5C, earlier referred to as the iPhone Lite or just 'affordable' iPhone, has now surfaced once again and this time
we get to see more than just a plastic shell
.
The whole front including the
actual display panel of the iPhone 5C
has now arrived in the hands of Chinese C Technology, and if you ever doubted how real the device is, it seems that this is one more solid proof to cast away all doubts.
It's hard to see many differences at first sight, but C Tech claims the wiring and some minute details differ in comparison with the iPhone 5.
Overall, though, the devices are strikingly similar. That is the big revelation actually - the
iPhone 5C might turn out to be a very, very similar device to the iPhone 5 spec-wise
and differ mostly in its plastic build and colorful back palette.
Now, feel free to take out your magnifying glass, dust off that Sherlock Holmes spirit and examine the images below.
source:
Weibo