Apple iPhone 4 allegedly catches on fire while charging overnight
43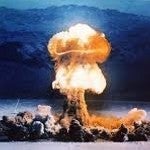 In an incident which
has never happened before in the States
, a Colorado woman who wishes to remain anonymous is claiming that her Apple iPhone 4 caught fire while she was charging the phone overnight. She comes forward in an attempt to pressure Apple into to publicizing the issue so that owners of the model can be warned that the phone can be combustible.
The incident occurred on a recent trip east and the victim said she awoke in the early morning to find her year-old white Apple iPhone 4 making "
sizzling
" and "
popping
" noises. After an "
immense crackling
" which she described as being "
not quite an explosion
," she said
a putrid smell filled the air
while clouds of smoke came from the phone. For some reason, the smell reminded her of swallowing plastic. A picture of the device after the incident shows a bulging battery that pried apart the casing.
The power outlet was inspected and found to have no malfunction that would explain what happened. When the woman presented the device and asked to be upgraded to an Apple iPhone 4S, the manufacturer refused and
gave her a replacement Apple iPhone 4
. The woman said, "
I would have liked to have seen them say they understand this might not be something that affects everyone. But, because it happened here, [they should] put up a precautionary statement to make people aware that if their battery becomes too hot to be wary
."
While a
similar incident took place in Australia
, it has never happened before in the U.S. Back in 2011 the company extended a replacement program for the first-generation Apple iPod nano which had a defect that caused the batteries to overheat. After an investigation by the Japanese police, Apple admitted the problem and acknowledged the issue. While none of Apple's current lineup has had a problem with the battery causing a fire, some users of the recently launched new Apple iPad
have complained about the tablet running hot
. Apple has
denied that the new tablet is running hot
. Other new iPad users claim that the tablet won't work while it is re-charging. The problem seems to be that the charger is not delivering enough power. No word yet from Apple on that complaint.
source:
Mashable
via
AppleInsider