Apple's new Phone 11 Pro and 11 Pro Max are not boring at all
43
This article may contain personal views and opinion from the author.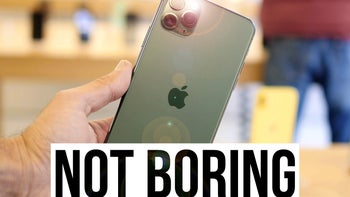 You don't have to browse the web for too long before a barrage of anti-Apple comments might flood your screen like a torrential autumn rain. Many of these would certainly be directed towards the
iPhone 11 Pro
and
iPhone 11 Pro Max
, the two new premium flagships that, you see, are neither innovative nor revolutionary in any way. That's what the vocal anti-Apple on the Internet will try to shove down your throat.
While there might be some truth to that, I think that the two new iPhones are introducing just the right updates in just the key areas that matter the most - battery and camera. Performance is missing from that list because it is traditionally always in ample supply.
These two are the two pillars of modern smartphone usage: battery life and cameras.
We should encourage battery life improvements
While everyone's making jokes at the rear camera module of the new iPhones and their "archaic" notches, most of the naysayers conveniently forget to mention the ludicrous increase in battery life that the new devices can achieve. As a long-time Android user and a phone nomad that uses all new phones for a certain amount of time, I've more often than not had to put up with mediocre or downright-unacceptable battery life, with just a few exceptions to that rule. Any and all increases in battery life are exciting to me, and you shouldn't downplay this aspect of this year's iPhones. I really hope battery life improvements become the next big thing in the industry, and if anyone is able to set and follow a trend on a high profile, that's Apple.
To reiterate, the
iPhone 11
Pro scores an additional 4 hours of battery life over the previous iPhone XS, while the iPhone 11 Pro Max gets a whopping 5 hours of better battery life in comparison with the
iPhone XS Max
. That's huge. Meanwhile, the iPhone 11 might be scoring just one hour of additional battery life over the XR, but given how impressively long-lasting that one was, we are easily looking at an impressive trifecta of battery champs.
Another "boring" aspect of the new iPhone generation--its ultra wide-angle camera--is another pretty important and exciting addition that certainly hypes me up. In my experience, these types of cameras are way, way, way more versatile in real-life scenarios than your regular 2x, 3x, or even more powerful telephoto snapper. The iPhones are now on the same page with all Android phones that have had a ultra wide-camera, erasing one of the few remaining selling points of the high-end 'Droids.
What's more, the new iPhones are essentially normalizing the triple camera setup, and all upcoming high-end phones would be expected to at least match the ultra-wide, wide, and telephoto setup.
Those two, the increased battery life and the versatile new camera, make the iPhone 11 generation pretty exciting to me, more so than most of the previous iPhone launches in the past two or three years at least.