An iPhone 11 Pro camera review by a 'pro' photog takes us on a wide night samples trip
22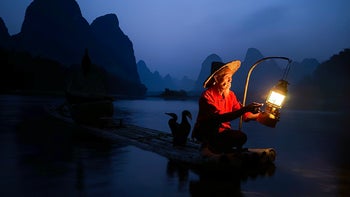 Gather around, Apple fans and photography lovers, we finally have unedited samples from the
iPhone 11 Pro
tri-camera model made by a 'pro' cameraman, and none other than Austin Mann at that.
He has been given early access to the 11 Pro and took it on a journey to Asia with expectedly great results. While we had no doubt that the pics will be great - after all, even a lowly mobile phone camera can produce excellent results in the hands of a skilled photographer.
What we were most interesting to read the actual comments on each shot, and the explanations why Apple decide to do this or that with the
iPhone 11
camera software didn't disappoint.
First off, we are starting with the question on everyone's mind - how's the Night mode doing? First, because iPhone fans are just now getting this feature, and, second, because night shots are the hardest test for a puny phone sensor, and each manufacturer approaches its low-light mode in a different manner. How did Apple decide to do it?
Apple iPhone 11 'pro' camera review Night mode samples

One thing I love about Apple's approach to Night mode is the strategic balance of solving a technical problem while also caring deeply about artistic expression. When you look at the image above, it's clear their team didn't take the let's-make-night-look-like-day approach, as some of their competitors have. Instead, it feels more like an embrace of what it actually is (night) while asking, "How do we capture the feel of this scene in a beautiful way..?"

Many of us iPhone photographers have watched as other phones like the Pixel and the Huawei P30 have passed us in low light. It feels so good to see the iPhone 11 Pro has caught up in low light performance.
Apple iPhone 11 Pro 'pro' camera review wide-angle and portrait samples
The wide-angle lens and the new "smarter" HDR mode that isolates facial feature for richer tones and emphasis, are also getting some "pro" analytical love:
The Ultra Wide works really great in normal lighting conditions and overall I'm thrilled to have it, but you will feel a difference when you move indoors or shoot into the evening. The images are softer than the Wide, and without Night mode you'll be tempted (or forced) to switch back to Wide depending on how limited your light is.
When I first heard about improvements in how the iPhone 11 Pro renders skin tones I was excited. We've all seen how Smart HDR occasionally renders skin tones with that weird flat/posterized/orange look, so I was anxious to see if this problem is solved...
Apple calls this new approach "semantic rendering" in which their software isolates skin, eyes, and teeth in order to properly preserve the texture and contrast of these features in a photograph. Judging by the images below, I'd say it works pretty well.