The iPhone 11 and iPhone 11 Pro come in many colors - pick your favorites here
12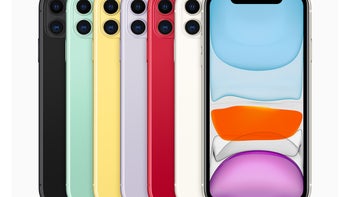 Officially announced
mere hours ago, the
iPhone 11
,
iPhone 11 Pro
and
iPhone 11 Pro Max
are Apple's latest and greatest smartphones. All three models will be available for pre-order starting this Friday, September 13, while their launch date is set for a week later, on September 20. This means that, if you're in the market for a brand new iPhone, you don't have a whole lot of time to decide on what model you're going to get.
We did the math and it turns out that - considering all color and storage options - there will be no less than forty-two 2019 iPhone models to choose from. But when it comes to just colors, you won't have
that
many options. Nevertheless, there will be some much appreciated variety, especially if we're talking about the
iPhone 11
.
iPhone 11 and its lively colors
The Apple iPhone 11 comes in a total of 6 lively colors. We're not surprised by this, as the iPhone 11 directly succeeds the
iPhone XR
, which was (and still is) offered in the same number of color variants. But not all iPhone 11 colors coincide with those of the iPhone XR. The new handset will be released in white, black, yellow, red, green, and purple - the last two colors are brand new, replacing the blue and coral options available with the iPhone XR.
While most iPhone 11 colors look pretty much as you would expect after hearing their names, this is not the case with green. That's because the green iPhone 11 is not dressed in your everyday green - in our eyes, the color looks like a subtle turquoise, which is actually a mix of green and blue.
We also have to mention that the red iPhone 11 is part of the Product Red brand - similar to many other red devices and accessories available at Apple. According to Apple, every Product Red purchase "contributes directly to the Global Fund to fight AIDS."
Regardless of your preferred iPhone 11 color, you will have the option of getting the handset in the following storage configurations: 64 GB (priced at $699), 128 GB ($749), and 256 GB ($849).
Apple iPhone 11 Pro and 11 Pro Max colors
The
iPhone 11 Pro
and
iPhone 11 Pro Max
have four colors each, and they are identical: space gray, silver, midnight green, and gold. All have nuances that aren't as lively as those used on the iPhone 11, in part due to the
matte finish
of the phones. Three of these colors - space gray, silver, and gold - are more or less the same as the colors of last year's Phone XS and XS Max. Thus, only midnight green is entirely new. The green in this color is subdued, looking almost grey-ish from some angles. All in all, this color seems to be pretty close to what's known as feldgrau in the world of fabric design.
As you can see, the iPhone 11 Pro and 11 Pro Max do not have Product Red versions. However, you will be able to buy Product Red cases for both of them, directly from Apple.
All four iPhone 11 Pro color variants will be available from day one in these storage configurations: 64 GB (priced at $999), 256 GB ($1,149), and 512 GB ($1,349). The same will be true for the colors of iPhone 11 Pro Max, with the mention that, in this case, prices go up a notch: $1,099, $1,249, and $1,449, respectively.